Holidays in the UAE in September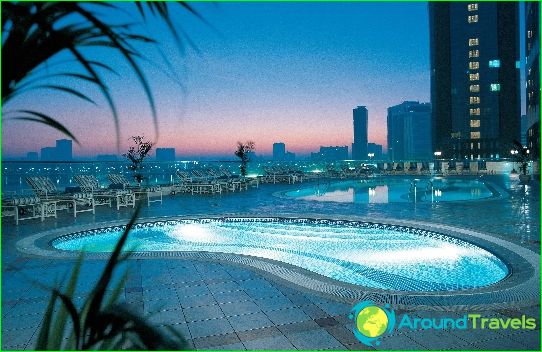 September is not reminiscent of the fall in the UAE, becauseits weather is comparable with a summer in Russia. Comfortable weather conditions can truly rejoice, because the humidity level gradually decreases and temperature extremes are retreating.
Temperature in the UAE differsheterogeneity. Abu Dhabi is the most sultry part, because the air is heated to 40 - 41 degrees, and only in the last decade there is a decrease of 3 - 5 degrees. Dubai may be +38 - 39C. The lowest temperature established in Fujairah, located on the coast of the Gulf of Oman, and they constitute a + 36C. By evening, the air is cooled to +25 - 26C, but in Fujairah - just to + 30C.
Precipitation is almost absent, so in September decided to rank as the dry period.
Holidays and festivals in the UAE in September
In Abu Dhabi, traditionally held in SeptemberADIHEX International exhibition, which is accompanied by a variety of interesting exhibits, offers, competitions. Visitors can buy new items of sports equipment, products for hunting, camping and regular equestrian sports. In addition, there is the opportunity to experience horse riding, falconry and fishing, which are traditional sports in the UAE. ADIHEX allows you to get acquainted with arts and crafts and the best Arab arms. At the auction accepted to offer the best horses, camels, Salyukov (Arab greyhounds), Falcons. Competition for the preparation of coffee Dalla, which is traditional for the Bedouins, can cause a real interest in the guests. Great fun guaranteed!
Dubai race held on sailing in Septemberboats, which are known as dhows. The first race took place in Al Ghaffal 1991. Since then, the event has become a tradition. Competitors must pass a line, which extends for about 86 kilometers. Viewers can watch the ferry participants from Dubai, which accompanies the athlete at a minimum distance.
Holidays in the UAE in September - this is an opportunityfun, but you should expect that the cost of permits remains the same as in the summer. In the second half of September, temperatures become more comfortable, so it is possible tariff increases.
Photos recreation in UAE