Holidays in the UAE with children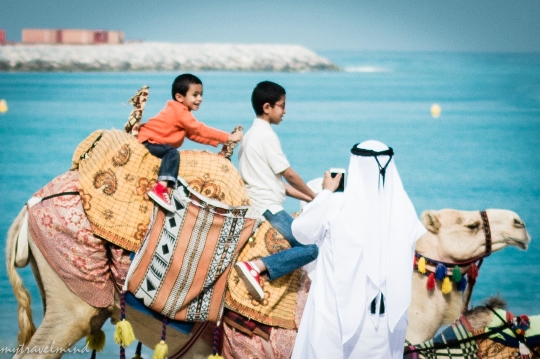 The country in which each building and constructionIt demonstrates the possibilities of modern civilization and at the same time piously observed national customs and local color is closely intertwined with the advanced technical achievements, the United Arab Emirates are in the last few years and a favorite beach resort for Russian travelers. On holiday in the UAE with children and alone tends more and more willing to see with their own eyes all the "most-most" of the tourist guides.
"For" or "Against"?
The undoubted advantages of a holiday in the UAE are clear to each child:
Arabic flavor quite naturallycoexists here with the latest developments, but because all hotels - comfortable and cozy, equipped with the latest technology and offer many opportunities for the perfect family holiday.
The price range of hotels in the UAE is very wide. You can remove the two-storey apartments with a private butler and nanny or restrict modest rooms, which will be no less comfortable.
The beaches in the UAE is very clean and the water in the sea is always warm and is suitable for bathing babies in any season.
Unfortunately, the climate is too hot Emirates,to year-round it was comfortable to be on the local beaches. That is why the recommended period for families with children in the UAE is limited to the last weeks of the fall and winter months, and in March the heat again begins to come into its own, and the weather - demonstrate exorbitant values ​​thermometer.
Preparing properly
Going on holiday with children in the UAE, it should be notednot only the weather, but also quite difficult acclimatization. Caught from winter to hot summer, the baby can not get used too quickly and even feel sick. To avoid this, it is important to limit the stay of children in the sun in the first couple of days.
The level of service at the Emirates resorts allows you to not worry about the children's health, but the ice in drinks purchased on the street, it is best to avoid, and consume only bottled water.
Passwords turnout addresses
For cultural and entertainment program during the holidays with children in the UAE are ideal:
Wild Wadi Water Park in Dubai with the highest water slide in the world.
Park Aquaventure amusement where kids love transparent tunnel with sharks.
The wind tunnel in Playnation center, giving the joy of feeling of free flight.
Track karting in Dubailand, which allows to feel a little big winner of the race.
Photo