Tours in Ajman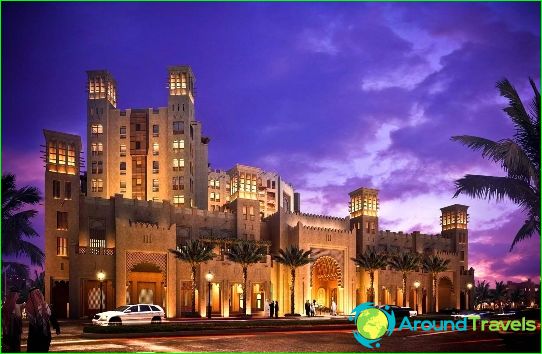 The smallest size emirate as part of the United Arab Emirates,Ajman to the same and the most poor. Against the background of the powerful older brother of Dubai and Abu Dhabi, he might look like a poor cousin, but the rest here has a number of important advantages. After reviewing all the "pros" and "against" rational travelers buy it tours in Ajman, because a healthy economy - a great chance to relax more and more diverse.
History and geography
The smallest emirate located on thenorth-east of the country and on three sides surrounds Sharjah. The fourth side - magnificent waters of the Arabian Gulf, on the banks of which are built hotels for a beach holiday.
Off the coast of Ajman has not yet found oil, andin this is the reason why some of its economic backwardness of the neighbors. Emirate before the beginning of the XIX century was under the yoke of the sheiks Qasimi, and only freed, got a chance to develop. In contrast to the rich neighbors, Ajman residents used to work hard, and a basic income in the emirate's economy, bringing production of pearls and cultivation of dates. However, each member of the stages in Ajman - is also a significant contribution to the well-being, and therefore guests are provided special attention and excellent service are guaranteed.
Keeping traditions
Going on tour in Ajman, travelerscan be sure that in addition to beach relaxation they will receive a memorable excursions and sightseeing. Firstly, Sharjah and Dubai are located within a half-hour taxi ride, and in addition, in the Ajman has something to do the inquisitive visitor.
Seaport offers guided tours at the shipyard, whereby old technology still collect Arab sailing vessels. They are called a dhow and are made of teak wood exported from India. On the Dow, you can make a sea voyage.
No less interesting to visit the camel rides,which is famous for the emirate. Fans of the study of historical artifacts find business like the National Museum, whose exhibition of thousands of items, including antique weapons and manuscripts.
Briefly about the importance
From the airports of Dubai and Abu Dhabi rounds in Ajman participants can get to your hotel by taxi, the fare of which is better to agree in advance.
Hotels in the emirate a bit, but the prices for their servicesslightly lower than in the neighboring cities. At the same time the beaches of Ajman, Dubai does not concede, and to all the "most-most" attractions by taxi is around the corner.
Photo