Tours in Fujairah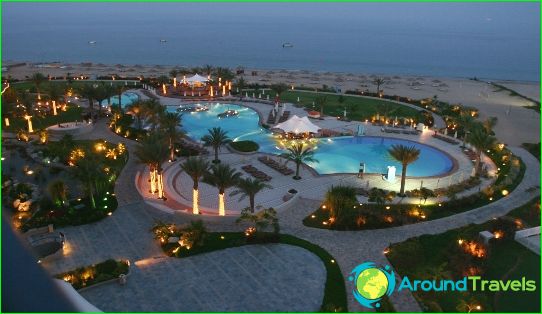 Dozens of city fountains and traditionalEastern markets, the best diving in the Arabian Peninsula and the oldest architectural monuments in the country, scenic gorges and many mineral springs, pristine beaches and rocky coves - all El Fuzhdayra or Fujairah. One of the most beautiful part of the UAE emirates in more suitable for recreation for those who honors calm and relax as the main components of a beach holiday and skyscrapers on the approaches to the beach prefer low cozy hotels and almost home service. However, things to do in Fujairah allow "stay" in Dubai or Abu Dhabi on excursions and enjoy all of the most-most achievements of mankind without any interference.
History and geography
Old dirty port, which was once a cityFujairah, has turned into a modern resort in the late twentieth century. And for a hundred years before Fujairah Sheikh declared independence and seceded from Sharjah, but during the ensuing decades of independence no one wanted to admit.
Lack of oil from its shores also did not addauthority of Fujairah, and a small, but proud emirate could prove their worth, doing the sweat of agriculture, fisheries and trade. This has contributed a lot and dynamic port, and special attention to the development of today's Sheikh tourism industry.
Unlike its neighbors, Al Fujairah offersbeaches on the Gulf of Oman Indian Ocean, and they all seem to be very clean and picturesque. Close to the shores of the mountain looms to protect the resort from the hot winds of the desert.
Briefly about the importance
Tours in Fujairah best to book early tospring or late fall. In the summer here, despite the absence of too hot winds, yet it is up to 40, and in the winter, and the water, and the air may not seem too comfortable for swimming and sunbathing.
Shopping in the tour in Fujairah fashionable to engage in the capital of the emirate and in neighboring Dubai, which opened the largest shopping mall in the world.
On Fridays, on the road in Sharjah a fewkilometers from Fujairah at 8 o'clock in the morning opened the famous market where you can buy everything - from carpets to fruits. Bargaining is always appropriate and is the best place to buy souvenirs from a tour in Fujairah.
Photo