Airport in Liverpool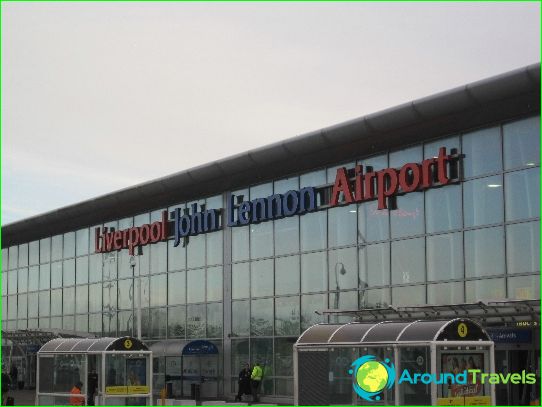 English airport serving the cityLiverpool, named after the famous musician John Lennon. Previously, the airport was named - Speke Airport. It is located approximately 15 miles from Liverpool city center, near the mouth of the River Mersey.
Liverpool Airport is considered one of the mostfast-growing airports in Europe. Since 1998, passenger traffic increased each year. When 98, he was about 900 thousand, now it is served almost 5.5 million. In May 2007, more than half a million passengers in the past month was first served at the airport.
Liverpool Airport has one runway whose length is 2286 meters. It is based famous throughout Europe airline Ryanair.
History
The story begins in Liverpool Airport in 1930year. Then Speke Airport operates regular flights to Manchester and London. Only 3 years later the airport was officially opened. By the end of 30-ies of the last century, the airport needed new buildings - were put into operation a new terminal, control tower and hangars.
During World War II, the airport was used extensively in Liverpool BBC.
In 1966, a new runwayallowed the airport to operate around the clock. In 1986, a new passenger terminal has been built, which came to replace the old. In 2000, work began on a new passenger terminal. The terminal was put into operation in 2 years, the cost of the work has cost more than 42 million pounds. The new building will allow the airport to increase capacity three-fold.
services
Liverpool Airport offers passengersall the necessary services on the road. Passengers can visit cafes and restaurants. Shops can also be inside the terminal, where you can find various goods.
Of course, it provides a set of standard services - ATMs, post office, internet access, luggage storage, etc.
For passengers traveling in business class, the airport offers a private lounge, high level of comfort.
Transport
From the airport you can get to Liverpoolin several ways. Unfortunately, the train to the city from the airport is not, but to the nearest railway / South Parkway railway station regular buses. From here you can get to the city center or the nearest city. Buses also go to the city center.
Alternatively, the taxis can be offered.
Photos of Liverpool Airport