Areas of Edinburgh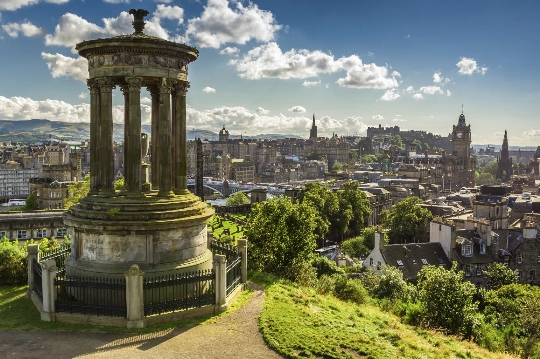 Edinburgh Areas represented on the map of Scotland's capital, and additional information will allow you to get acquainted with their correspondence features.
Name and description of the main areas
Old city: interesting palace Holyrood Palace (reflects the style of the Renaissance, you can admire the portraits with images of the Scottish kings, stucco ceilings, royal interiors of Mary Stuart, an attribute of power - the royal mantle), the Royal Mile (entertainment of tourists engaged artists street genre), the Cathedral of St Giles' Cathedral (in chapel new entrants are a rite of passage of the Order of the Thistle every year, there will be able to admire the work Braytferda - stained glass "window Burns"), the Scottish whiskey museum heritage (visitors will be shown a collection of 3,500 bottles and videos that will introduce them to the steps of whiskey preparation and offered to taste this drink).
New town: guests will see Sir Walter Scott Monument (worth to take a photo on the background of this monument, made in neo-gothic style of Carrara marble), will visit the Royal Scottish Academy (subject to product inspection of the Scottish and European art of 17-19 centuries, as well as paintings, are works by contemporary Scottish artists ) and the National gallery of Scotland (fans will appreciate the paintings of Monet, Gauguin, Rembrandt, Van Dyck, and others).
Kanonmils and Stockbridge: renowned for stylish shops and the Royal Botanical Garden (in Chinese garden recreated Asian landscape in the Ecological Garden - shows the local flora as lichens, ferns and mosses, in Rocard - grow alpine plants, plants, New Zealand, Japan and North America, and the entire collection of counts 5,000 plants of different origins, and in the showroom visitors will see the exhibition with herbs and learn about plant propagation mechanisms).
Edinburgh East: a three-kilometer beach attracts tourists Portobello (sporting activities such as sailing regattas), along which you can find bars, yacht clubs, indoor pools.
Edinburgh South: the main attraction - Roslyn Chapel, as a decoration which stand symbolic sculptures and frescoes, "telling" of biblical history, temporary Masonic society and the Knights Templar Order.
Edinburgh West: a stadium "Murrayfield" (here are often arranged rugby) and Edinburgh Zoo (visitors will be able to admire an interesting spectacle - Penguin Parade, the essence of which is that the penguins released from the cages for a walk to talk to the guests, and in birds the garden you can see Balinese starling, Nicobar pigeon and other exotic birds).
Where to stay tourists
Good place to stay - Hotel RoyalMiles: a place for walking and recreation (there are bars and shops, and in August hosts the Festival, accompanied by street performances). Those who wish to live in a relatively peaceful area, it is necessary to choose hotels at the bottom of Miles (may be interested in "Holyrood Aparthotel"), because there is less people than in its central part (note the "Apex City Hotel"). Do you want to live in a new city? A good option for accommodation can become "The Glasshouse".
Photos Edinburgh area