Shops and shopping centers in Edinburgh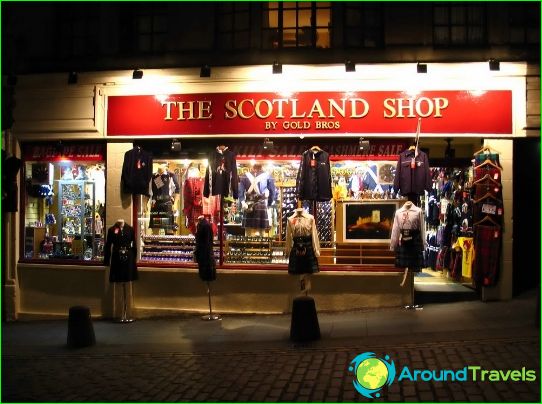 Shopping in the Scottish capital may becomean amazing adventure. There are many interesting shops with unique goods, vintage shops, markets. If you are interested in brands, then they abound. Best shopping time - the beginning of the Christmas shopping district and Labor Day 30 August-2.
Popular outlets
The department «Harvey Nichols» and «Multrees Walk» on St Andrews Square sell things from famous fashion houses - Prada, Gucci, Louis Vuitton, Armani, Stella McCartney, Mulberr.
Princes Street - the street for those who lovecombine inspections of historical monuments with shopping. During the walk you can admire and Edinburgh Castle and purchase branded clothing as the brands of high fashion, and more democratic. Do not miss «The Works» - a unique souvenir outlet. Hardly important issue of the year to buy trinkets and postcards. In last year's Edinburgh souvenirs are sold cheaper than products of the year. Another oddity - souvenirs in the center of the cheapest in town, but this outlet is even cheaper.
On George Street luxury jewelry boutique «LimeThe Blue "is a precious jewelry in different styles, as well as pens, watches, jewelry boxes and other" small things "interspersed with precious metals and stones. Another remarkable store of the street - a shoe «LK Bennett».
District West End, especially its streets Stafford Street and William Street Edinburgh mods prefer. There are a lot of clothes by local designers.
Outlets - a great opportunity for a relativelylittle money to put on the best European designers. «Livingston Designer Outlet» - boutiques are about 100. They are located in the original architecture of the building under a glass dome.
«The Red Door Gallery» on Union Street - Shopdesign works. It offers a small interior decorations, paintings and accessories to give the integrity of your image. All things are made in one piece.
Second-hands and antique shops in Edinburghcan become sources of these findings. Visit, for example, «The Frayed Hem» on Cockburn Street, «Unicorn Antiques» on Dundas Street. Pieces of furniture, jewelry, vintage clothing - there is no doubt that in Edinburgh it will all be true.
Shopping and entertainment centers in the city a lot. Most popular: «Cameron Toll», «Fort Kinnaird Retail», «Gyle» - in the southern part of the city; «Ocean Terminal» - landmark Quay Leith; «Princes Shopping Mall» on Princes Street.
«Edinburgh Woolen Mill» - Scottish shopwool. Bringing Scottish plaid scarf, beret or hat in traditional cage - a great idea. Scottish woolen fabrics manufactured by traditional technology. Clothes are thin, warm, with time does not fall down and do not lose their shape. What is nice in the store price is even lower than in the boutiques at the woolen factories.
«The Scotland Shop» - the national dress shop. If you want to buy a full suit with the Scottish kilt, belt, sporannom, kiltpinom or figure out what all these words mean, to see their own eyes and feel of wardrobe items, then you here.
«Royal Mile Whiskies» - how not to bring homeScotch whiskey and entertain friends, baiting stories about holidays in northern country proud kilts and bagpipes? This store is without a doubt the best for such a purchase.
«Vinyl Villains» - an antique shop vinyl records. You can not only buy music on vinyl last century, but also to pass his grandfather preserved plate for sale.
Of course, the idea of ​​Scotland is notcomplete if not to visit the local markets. «Ingliston Market», for example, will show the range of typical news for market products - farm products, clothes and electronics, flea collapse. A «Edinburgh Farmers' Market» will form a picture of the Scottish farming of high quality products.
Photos of Edinburgh shops