Entertainment in London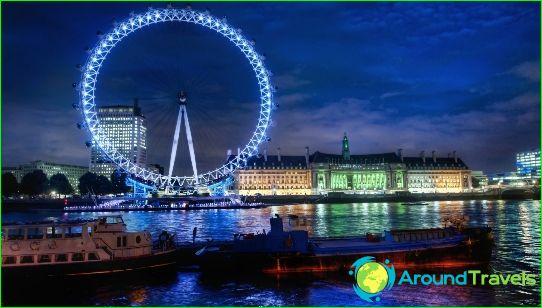 Entertainment in London aimed at travelers of all ages - there is no time to be bored kids nor their parents nor noisy youth companies.
Amusement Parks in London
"ThorpePark": little children come here to the delight of water activities, and teens and adults - from dizzying roller coasters and other extreme rides ( "Samurai," "Saw," "Infernal Retribution," "detonator").
"Chessington": This amusement park can not only have fun at any of the 40 rides, but also to visit the aquarium and the zoo, attend the various shows that are held throughout the day in different parts of the park. Visitors to the park have the opportunity to visit its thematic areas such as "Wild Asia", "Land of the Dragon", "Transylvania", "Mexicana", "Pirate Bay".
What kind of entertainment in London?
Do not think in your vacation without visiting nightinstitutions? Pay attention to the club "Bagley's Studios" (at your service - 4 stylish bars, and 5 dance floors), "The End" (here prefer to have fun lovers of electronic music, and in addition, in the club 2 times themed parties are held in the week) "Roof gardens" (you can not only have fun on the dance floor, but also to walk through the gardens and visit the interesting presentations and other cultural events are often held in this club).
The list of places required to visitit is recommended to include a visit to the London Aquarium: here you will be able to observe the marine life that live in the Atlantic and Pacific tanks. In addition, here you can come to lectures and watch the process of feeding fish. And the kids, for sure, will be delighted with the opportunity to touch starfish and stingrays.
Love the unusual entertainment? Be sure to visit on a walking tour "Beatle's London Walk": offers a glimpse into the home of the British members of the legendary quartet, recording studio Abbey Road, the gallery where John met Yoko Ono, Paul McCartney's office.
For entertainment, you can go for a walk along the Thames, going to a river cruise "City Cruises": as part of the tour you will be able to admire the beauty of London and make unique photos.
Activities for children in London
"Cutty Sark" Boat Museum: its youngest guests, for sure, want to look at numerous exhibits presented in the museum, visit the interesting lectures and learn the art of knitting knots.
"Namco Funscape": entertainment center offers couples with children spend time on the racetrack or in the laser maze, play air hockey, bowling and tennis Liping.
Peter Harrison Planetarium: thanks to modern technology HD-projection then your child will be happy to go for a walk on Mars, to find yourself in the center of the sun, see the birth of stars.
London offers a stroll through Trafalgar Square, Buckingham Palace, to see, to spend time in one of the parks, to ride the attraction London Eye ...
Photo