London Underground: map, photos, description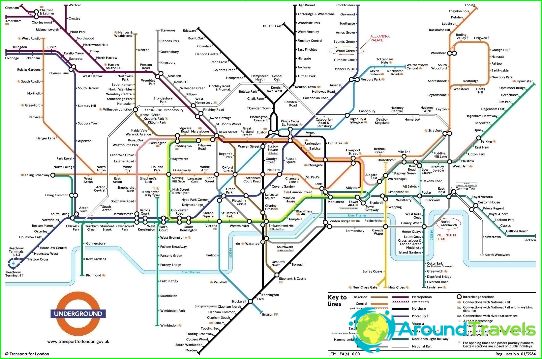 Metro map of London
London Underground - the oldest in the world. The first subway line opened in 1863 and was called the Metropolitan reyluey, it was built to link the two railway stations - Paddington Station, and Kings Cross Station - a city where a remote area daily rushed the crowd of workers and employees.
By the end of 1880 the London Underground network was alreadysufficiently developed, and is on the mainland only designed underground transport system locomotives in the compositions, in London in 1890, we began to exploit the electric train.

London Underground lines
Currently, London Underground, colloquiallycalled "pipe", - one of the best ways without loss of time to explore the city. Metro covers most areas of the city and county of Buckinghamshire, Hertfordshire and Essex. London Underground has 13 lines (including Doklands Light Railway / DLR - Docklands Light Railway and London Overground - «London Overground", which is officially in the London Underground is not included) and 275 stations.
Metro areas are divided into regions: Eastbound, Westbound, Northbound or Southbound. Some of the lines are areas that go to the surface, while others are entirely on the surface, such as: Metropolitan, District, Circle, Hammersmith & City ... Other lines are underground all the way, such as: Bakerloo, Central, Jubilee, Northern , Piccadilly, Victoria, Waterloo & City.

Hours London Underground
Like Moskvovskomu subway tunnels underground of London are only two ways, so at night (approximately at the same hours - from 01: 000 to 5:30) are closed for maintenance.

Tickets for the London Underground
Tickets «Travelcard» to travel on the London Underground -paper, magnetic stripe. Significantly favorable for travel smart card «Oyster» with integrated contactless chip, on which passengers can put any amount of money. Those and other cards can be used on land transport in London: trams, buses, light-rail and commuter transport poezdah.Priobresti card by metro to metro ticket offices or ticket machines.
free travel on the map «Oyster» For passengers with disabilities and persons who are 60 years old to 6 April 2010, is provided.
Payment of travel, in addition to the conductors and the turnstiles,check traffic inspectors in plain clothes and in uniform ticket checkers. Stowaways may be punished not only by a fine up to 1000 pounds, but also, according to a set of rules and law, three months in prison.
Photos of the London Underground
Metro map of London