London symbol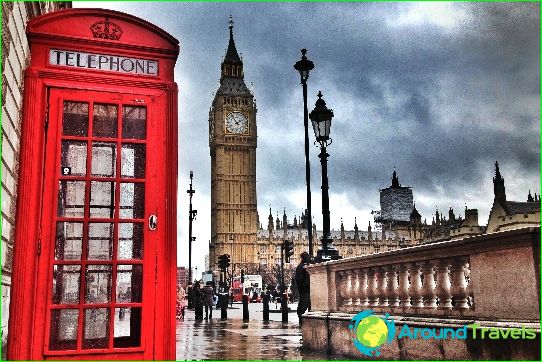 The capital of the UK, though an expensive holiday destination, but it is still popular with many travelers.
Big Ben
Big Ben bell is called (its height - 2 m)inside the clock tower, whose height - 90 m (c 2012 attraction called "Elizabeth Tower"). Here, on a platform to the bell, you can climb the 393 steps, but important guests of the UK.
Address: Bridge Street, City of Westminster.
Trafalgar Square
It is recommended to visit the Nationalgallery to get a chance to see the masterpieces of painting in 2000 (12-20 centuries). With regard to the numerous monuments, among them are noteworthy ship installation (a copy of the "Victory" Nelson) in a glass bottle and a 44-meter column, which crowns the top of the statue of Admiral Nelson. This pleases the area visitors and residents of the main Christmas tree, but still there are organized concerts, held rallies and mass celebrations.
Tower Bridge
The upper gallery of the bridge (stairs leading to it withOver 200 stages in both towers; raising the cost - £ 7) is used by pedestrians, not only for the purpose of crossing the Thames, but also as a platform for viewing spectacular London views. In addition, visitors can look into the museum (ticket will cost 8 pounds), where guests can get acquainted with the steam engines that once raised section of the bridge, and play with interactive models.
Address: Tower Bridge Road
Madame Tussauds museum
This museum - a symbol of London, was opened in 1835And offers an interesting view the wax exhibits (some figures talk, move, react to the actions of the visitors), as well as to visit the Cabinet of Horrors and "Transfer" in different periods of history of London by viewing themed films (for this purpose to create more monitors).
Useful information: Address: MaryleboneRoad; Website: www.madametussauds.com
The London Eye
This 135-foot attraction will allow willingadmire London from a height of over 30 minutes (during which time makes a complete circle) - this "journey" they will go in the cabins-capsules in the form of eggs (here you can enjoy champagne and strawberries, as well as use the services of "Capsules Cupid", calculated on the two).
Useful information: Official website: www.londoneye.com, address: County Hall, Westminster Bridge Road.
Black cabs, taxis and red telephone booths
Recognizable symbols of London and are Black Cab (trip on the company's black taxis will be a real adventure, besides their drivers are also tour guides), and a red telephone booth.
Photo