Holidays in London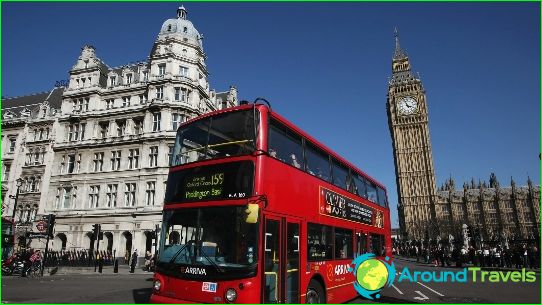 Holidays in London will not leave anyone indifferent - here you can admire the Big Ben, go on a cruise on the Thames, to get acquainted with the local culture, see the Royal Guards ...
The main types of holiday in London
Sightseeing: as part of tours you can visit the British Museum, the National Gallery and the art gallery Tate Modern, walk through Trafalgar Square, the Royal Botanic Gardens and Hyde Park, see Buckingham Palace, the Tower of London and Tower Bridge, Palace of Westminster and Westminster Abbey, the column of Admiral Nelson, the church of St. Margarita. Your goal - to see the main sights and make interesting pictures? It makes sense to get into the tour bus BigBusTour (buying a ticket, you can go all day and go out at any stop).
Active: Anyone can have fun in the nightclubs ( "TheEnd", "Bagley'sStudio"), admire the views from the Ferris Wheel "London Eye", visit the London Aquarium "SeaLife" (1000 nautical creatures "huddle" in 2000 millions of liters of water).
Event: feel the true spirit of London is by going on the Boat Show (January) London Marathon (April-May), Naked Bike Ride (June), Music Festival City of London Festival (June), Festival of the Thames (September), the London Film Festival (October-November ).
Prices for tours to London
The most successful time to visit London is May-September. The increase in the cost of vouchers in London for about 50-60% is typical for the summer months of September and Christmas tours.
Despite the fact that in the capital of England does not happenlow season, you can save a little, arrived in the city in October and early December and February to mid-April. And you can take a cue from some tourists go to a combined bus tour includes visits to London, Scotland and Wales.
On a note!
It should be borne in mind that many shops are closed after 18:00, and only large shopping centers are open on weekends.
Getting around the city by bus advisable as taxi services are quite expensive.
Couples can save on visits to museums and cultural events - for this is to get a "family tickets" (savings of 25-50%).
Seasoned travelers are advised to bring outLondon tea, whiskey, ale, hats in the style of Sherlock Holmes, designer clothing and accessories, souvenirs with firm attributes command of "Chelsea" and "Manchester United".
Photos vacation in London