Shopping in London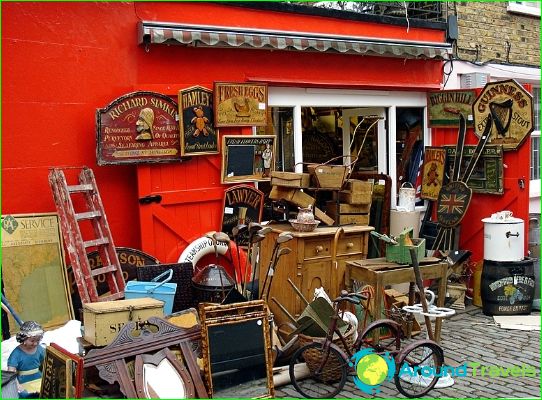 Souvenirs in London
Every tourist is trying to bring a littlePresent all the relatives and friends of the places he visited. And, of course, indulge in a solid souvenirs or new clothes. What to bring back from London?
First of all, it is worth noting that London -capital of fashion and here you can buy clothes of famous brands at reasonable prices. The most famous shopping street in London is Oxford Street. You can look into one of the huge malls, for example, «Sheffield». garments cost depends on the brand, and during the traditional sales here you can see a real boom shoppers from around the world.
For those who prefer exotic, originality andcharm, will be pleased to visit the largest flea market in London, and according to some sources, and Europe, in the area of ​​Notting Hill. Here you will find antiques, vintage shops, brand stores and retail shops. In this market you can find almost all of his visits to compare with a visit to London museums. Another famous vintage market is Brick Lane - where you can buy clothes, furniture, bags, shoes and various trinkets. As a rule, flea markets operate on weekends and deploy their activities on the streets of London.
An excellent gift for both men and womenEnglish is good quality scarves, which will warm the cold autumn and winter days. In the souvenir shop you can find the original scarf for only 5 pounds, boutiques and retail stores represented more expensive models.
Equally exclusive Prezent from London tohandmade umbrella, able to withstand strong gusts of wind. The cost of such an umbrella can reach between 50 pounds to a couple of thousand, but it will last you for years.
If among your friends there are football fans, thequestion of what to buy in London should not catch you by surprise. Bring them branded paraphernalia English teams, "Chelsea", "Arsenal", "Manchester United" and "Liverpool". An excellent gift and become famous Scottish Scotch, which cost starts from 20 pounds.
A perfect gift is from London Teaexcellent quality, packaged in a signature tin boxes. The most delicious is considered tea with bergamot and jasmine. The cost of tea is directly related to its quality.
And, of course, can not forget the souvenirs depicting the symbols of London - cups, mugs, pillows, statues and more.
Number of Photos in London
Souvenirs in London