What to do in London?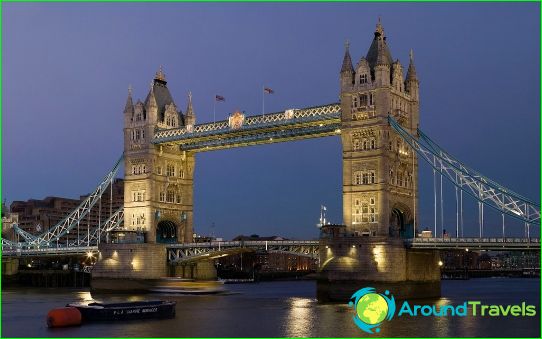 London - a vibrant city teeming with lifearound the clock. History is intertwined with modern, green parks emphasizes the magnificent temples and palaces, and countless museums and entertainment attract thousands of tourists from around the world.
What to do in London?
Walk on the Tower Bridge and the Tower of London to see;
Visit Buckingham Palace, which is surrounded by a charming garden and a beautiful artificial pond;
Visit London's famous theaters and walk along Piccadilly;
A cruise on the Thames on the boat;
Go on a tour of the studio Harry Potter (you will be able to visit places that are mentioned in the famous saga).
A Visit Sherlock Holmes and Dr. Watson in Baker Street in the Museum of the characters from the works of Conan Doyle.
Things to do in London?
Start your acquaintance with London is to walk onTrafalgar Square with its ancient buildings and beautiful fountains, and then heading south to Big Ben and Westminster Abbey. And you can start the tour from below, from the Vauxhall Bridge and stroll along the promenade along the Thames.
tickets can be purchased if desired tosightseeing bus Big Bus (it is valid for 48 hours). Going on a trip on the bus, you will be able to see the main sights of London, as well as, free boat ride from the Tower to Westminster Abbey.
Do you like to relax in nature? Go to Regents Park: There is a garden of roses, thousands of trees, an artificial lake. Visiting Hyde Park, you can go boating on the Serpentine Lake and ride a horse. In addition, in the park on the big screen broadcast the competition, ie, can come here in the crowd wanting to see competition in a triathlon or marathon swim.
Fans of night entertainments should go toSoHo - here at every step you can find a nightclub, bar, Indian, Thai and Japanese restaurants. Great fun at the five dance floors and sip tasty cocktails in four stylish bars, visit the club Begley's Studios. Those who will go to a nightclub "The End", will be able to visit the theme party and "pozazhigat" to the sounds of electronic music.
For shopping is better to go to the areaCovent Garden - you can otovaritsya in boutiques and souvenir shops. And you can look at the Royal Opera House. For shops of different price segment should go on a shopping street, Oxford Street.
In London, the lovers and holiday tour, and noisy entertainment: in the city are constantly interesting events - from football games to the performance of star performers.
Photos where to go in London