Zoo in London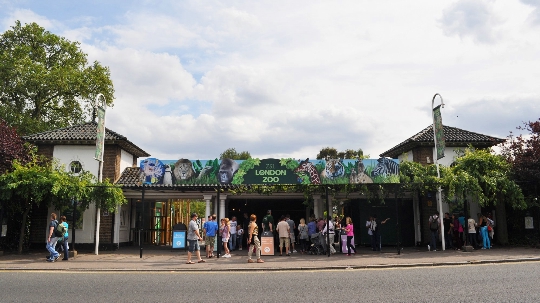 The oldest zoo in the scientific world was in LondonIt was founded in 1828 and initially intended only for research purposes. The first visitors were his enclosure only 20 years later, and since then the zoological park capital of the UK enjoys the same success with inquisitive audience.
ZSL London ZOO
That's what the official name of the zooLondon on its website and in all directories. Sometimes it is called Zoo Regents - the name of the park where it is located. The zoo has no state funding and all its splendor created by private donations and contributions of the member organization "Friends." To help, you can park by buying tickets with an additional percentage on donations included in them.
Pride and Achievements
Almost 20 thousand animals representing more than 800species reside in the Zoo Regents. Pride Park - the family of western lowland gorillas, nestled on its own island, and Rothschild giraffes, which you can watch the "face to face" with the high canopy.
In the nearest plans of the administration - opening in spring 2016 of the new building "Earth lion", reminiscent of Gir Forest National Park in India.
How to get there?
Location of the zoo - Regent's Park, London NW1 4RY, United Kingdom
You can get there:
Metro. London Zoo is a few minutes' walk from Camden Town station and Regent's Park. From the station "Baker Street" about half an hour to go, so you can take bus route 274 and to get them to stop, "Ormond Terrace".
By bus. C2 route follows from Victoria Station, Oxford Circus and Great Portland Street. The desired stop - Gloucester Gate.
In a rented car. Parking at the zoo is very spacious and London without paying for entry.
Helpful information
London Zoo is open every day except December 25th. Opening hours of the park:
From November 1 to March 31 - from 10.00 to 16.00.
From 1 April until 31 October - from 10.00 to 17.00.
The box office stops selling tickets an hour earlier. At the same time the gates are closed and the input. Aviary some animals may not be available 30 minutes before the official closing time.
The price of the entrance to the park website - the most profitable. In addition, online booking helps to avoid queues. Prices for the tickets at the ticket office of the park (in British pounds) in about 10% higher, and look like this:
Adults - 24.30.
Children from 3 to 15 years - 17.10.
Older visitors, students and adults with disabilities - 21.87.
Children under 3 years - free of charge.
To reaffirm the right to benefits, have to present a document with photo identification.
Terms and contact
Children under 16 years must be in the parkaccompanied by an adult. Dogs - is prohibited, and bicycles should be left to a special parking. Not allowed on the park visitors rollerblading and skateboarding.
Official Site - www.zsl.org
Phone + 020 7722 3333
Photos Zoo in London