Kitchen UK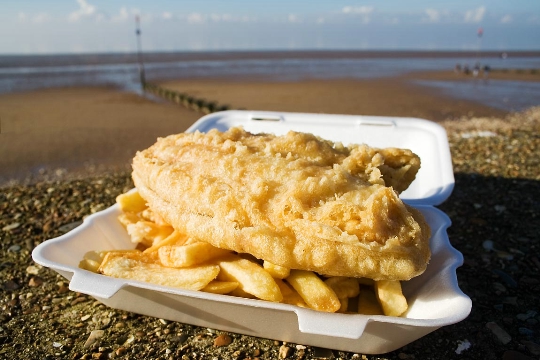 The modern kitchen is famous for the variety of dishes of Great Britain, in which there are elements of international culinary traditions.
National kitchen UK
Some national dish is often served withvarious sauces - apple, horseradish, mint, red currant, and others. Because each region is characterized by its unique cuisine, in England it is advisable to try English steak and Yorkshire pie, Scotland - porridge with meat and spices or veal scars with giblets in Wales - lamb with mint sauce, in Northern Ireland - dish of trout .
In connection with this should talk separately aboutthese kitchens: in the kitchen British common fish (herring, salmon, cod), meat (lamb, chicken, beef, pork), and vegetables (primarily baked) food; in Scottish cuisine - a variety of soups, cereals and meat dishes; in Irish cuisine - seafood, bread (fruit, soda, potato), red algae.
Popular British cuisine:
"Lancashire stew" (potato-based dish, meat, onion, which is cooked in a pot);
"Fish and chips" (dish made of fish and potatoes cooked in deep fat, which serves sauce and lemon);
"Haggis" (a dish with giblets, minced mutton and spices in mutton stomach);
"Simnel" (cake with fruit and almond paste).
Where to try the national cuisine?
Because the well-established tradition inUK accounted for breakfast 07: 00-08: 00, lunch - at 13 o'clock, a light lunch - at 17:00 and dinner - at 19:00, then the same graphics power is held by the local cafes and restaurants.
In London, you can visit the "Dinner by HestonBlumenthal "(in an institution serving English cuisine of different times (try the veal tail with saffron, scallops with cucumber sauce) and author's delicacies; and as the restaurant is very popular, the table of your best exercise for a month), in Brighton -" The Coal Shed "(specializing in English cuisine, primarily meat and fish; you can visit the event, if desired," Wine club ", arranged several times per month), Edinburgh -" Valvona & Crolla "(specialized institutions - Scottish cuisine, where a large selection of home baking and wine), in Glasgow - "Black Sheep Bistro" (visitors are treated to the legendary "haggis" and "Sunday roast lamb").
Cooking Courses in the UK
Those wishing to offer to enroll inculinary school in England (Oxford) "Quat 'Saisons": classes are designed for 1-4 days (the number of people in the group is less than 6), and its main themes are as follows - "Dinner Valentine's Day", "Vegetarian Lunch", " Learning to cook for 1 day. "
A trip to the UK can be timed to coincide withthe festival of coffee (spring, London), oysters (July, Whitstable, Kent), cheese and wine (October, London) or the restaurant festival (October, London), which is held in honor of gastronomic tours in the London double-decker bus.
Photo