Food UK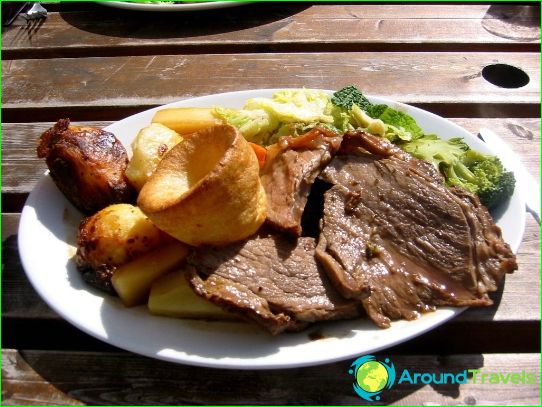 It is believed that English cuisine hasmonotonous and conservative. Many people immediately think of the traditional breakfast with porridge. However, the UK food gourmet delight not only porridge. In every region of the country has its own set of tasty dishes. Residents observe the established traditions that relate to food. Breakfast they occur at about 8 am, lunch - for 14 hours, in 17 hours - a light lunch, at 19-00, they are taken for a tight dinner. For many years the English cuisine was considered unattractive compared with other cuisines of the world. Despite this, all over the world went recipes of delicious puddings and succulent steaks. However, UK cooking recipes are simple. The British are reluctant to accept foreign food. But their cuisine has a great advantage: the traditional food prepared from the properly selected and natural ingredients. In the process of used cooking methods that contribute to useful properties of the products. The population of the country for many years adhered to the Puritan view of the seasoning. Aromas of spices perceived hostile currents. Therefore, English dishes deprived of spicy sauces.
Traditional dishes
If you are going to England, by all means trythere fish and chips fried, cottage pie, roast beef and oxtail soup. Among the local population has a high popularity Cumberland sausages, sausages with mashed potatoes, sautéed veal kidneys. Nowadays, many British addicted to junk food, which came to them from the United States. Each region has its own unusual dishes. In Wales, on holidays on the table serves lamb with mint sauce, eat steaks in England, and in Scotland - oatmeal with spices and meat. Interesting dishes include eggs on the Scottish, Lancashire stew, pudding in the renal fat, Yorkshire pudding. Modern prescribes cooking many dishes served with sauces. Midsomer sauces - a mint, bread, apple sauce and horseradish. Ovine and with hare sauce make an amazing red currant. Of noteworthy cheeses and Stilton Wensleydale.
Desserts and drinks
Sweet dishes are considered top UKmanifestation in the art of cooking. The British gave the world the recipes caramel pudding, apple pie, Cornish Poysti (cake of puff pastry), pudding with raisins and others. The favorite drink among the population of the country is considered to be tea. For English tea they reverent attitude. Among the alcoholic beverages they prefer Scotch whiskey, beer brand "Guinness", ale, gin, Irish cream liqueur.
Photo