Prices in Manchester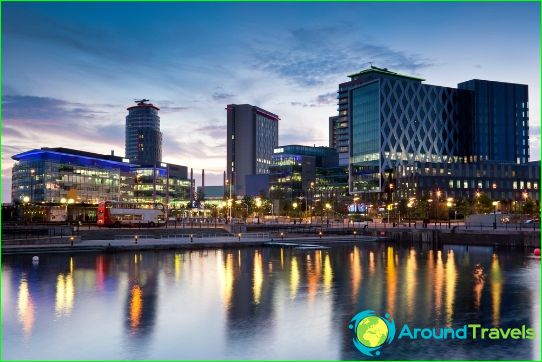 The high cost of living differs UKmany other countries. Manchester - one of the brightest British cities. The average price level is higher than in other cities in the UK. This includes the cost of housing, goods and services.
Accommodation
In Manchester you can find any hotelstar. For travelers on a tight budget are hostels. Beds in the hostel is cheap. If the main purpose of your visit to Manchester - sightseeing, you'll like a cheap place to stay with a minimum of amenities. Rent beds for a week will cost 100 pounds. If comfort is of paramount importance, the number must be removed at the hotel. Double room in a 3 * hotel is worth 350 pounds a week. For 5 * apartments will have to pay £ 1,000 in the last 7 days. Rent a room in a five star hotel in Manchester can be 120 pounds per night.
Activities and excursions in Manchester
Good shops are concentrated in the centralpart of the city. They guarantee a high quality service to customers. The local attraction is the largest shopping center Arndale Centre, on whose territory has more than 300 stores.
Meet the main attractions of the city as possible during the excursion. It takes 4 hours and costs 100 pounds.
The transport system
In Manchester, the public transport systemdesigned to trifles. It functions perfectly, including a bus and tram from the "Manchester Metrolink" system. All parts of the city, the outskirts and suburbs connected by a network of bus routes. In Manchester, there are three free lines that connect major urban areas. Tickets for travel must be purchased from the driver or in special machines. Bus ticket for 1 day costs about 4.5 pounds.
Dining in Manchester
The cost of products in the city higher thanother localities of the country. The local shops 1 kg of meat can be bought for 8 pounds, 1 kg of fish - 12 pounds. The cost of butter is equal to 1.5 pounds of spaghetti - 2 pounds, 1 kg of flour - 1 pound.
The level of prices in restaurants is Manchesterconsistently high. In the historical center there are no budget cafes and restaurants. Cheap snack can be some institutions that have been removed from the tourist routes. For example, a light snack will cost £ 2-5 and main dishes - 8-9 pounds.
Buy products can be popular on the marketArndale. There you can have a meal is quite inexpensive. In the market there is a budget Mexican restaurant serving burritos, tomato soup with peppers and other dishes. For the big burrito is required to pay 4 pounds.
Photo