Transport in the United Kingdom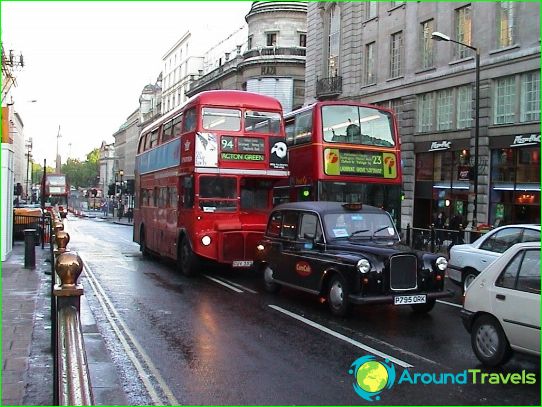 Transport in the United Kingdom is represented not only by bus but by rail, sea and air links.
Popular modes of transport in the UK
City buses: they do both day and night flights. At each stop you will find a map of routes and electronic scoreboard, which reflected all the necessary information you are interested in buses. Tickets can be purchased from the driver or at the bus stop in vending machines (to the bus stop, it is necessary to pull the arm forward).
Intercity buses: the main shipping company in the country is the National Express - on buses, belonging to it, you can reach different parts of the UK, presenting the driver bought the ticket.
Metro: In addition to London, the metro you will find in cities such as Manchester and Newcastle. At the entrance to the subway, as well as at the exit, travel must be attached to the turnstile.
Railway transport: to move around the country, you can take the train - it's convenient and fast (r / w stations are practically in all cities). As for the cost of tickets, they are directly dependent on the company's carrier, the distance and the car category.
Water transport: if you have a desire to get to the various cities in the UK or Europe and Scandinavia, this can be done by ferry or courts of different companies.
Taxi
There are several kinds of taxis: black "cabs", minibuses with a taxi license (they are equipped with a sign indicating the information on the registration of the taxi and the number of passengers they can carry), mini-taxi (must be ordered in special services or by telephone).
In large cities, you can run into drivers, imposing their services and do not have in this license or insurance, so you should be careful and use the services of the official taxi.
Car rent
To reach every corner of the country, notDepends with the schedule of public transport, it makes sense to rent a car. Since the left-hand traffic operating in the country, it is advisable to take a car with automatic transmission (it will more expensive). To rent you need an international driving license (you must be at least 21-25 years and driving experience - not less than 1-3 years).
It's worth noting that for breaking the rules (loudMusic, food intake or drink while driving, smoking inside the car) provides for a system of fines. Also, do not go, do not strapped (this also applies to the driver and passengers) and talk on the phone without a system of "hands free".
Traveling around the UK on various modes of transport, you can visit not only London but also cities such as Edinburgh, Liverpool, NY ...
Photo