Shopping in Kiev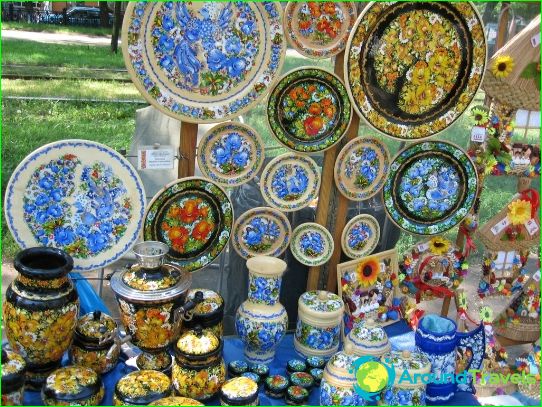 Kiev - the capital of Ukraine and focuscultural and historical heritage of this country. It attracts tourists and business people not only from different cities of Ukraine, but also near and far abroad. Many tourists are concerned about the issue - what to bring from Kiev, in addition to pleasant memories and positive impressions. After all, you always want to buy a gift or a souvenir that would be memorable and original, regardless of its value.
Popular shopping in Kyiv
Brand clothes. In Kiev you can find both cheap enough and diverse quality clothing from national fashion designers and clothing from well-known brands around the world. Virtually every area of ​​the city, you can find shopping and entertainment malls, where a wide range of clothing, shoes, perfumes, cosmetics, etc. A large number of boutiques are located in the main street of Kiev - Khreshchatyk.
Works of art and antiques. It is worth noting that in Kiev there are many galleries and private shops where you can buy a wide range of jewelry, the author's ceramics, art paintings, antiques at relatively low prices. However, do not forget to ask for expert help that the product is not the subject of special value to avoid problems when exporting abroad.
Objects of arts and crafts andsouvenirs. Ukraine is famous for its craftsmen and rich culture, and the famous St. Andrew's Descent is a place where you can buy the best examples of traditional art. This street is considered an open air museum, where you can buy textiles and leather goods, as well as the author's articles made of stone, clay, wood and other materials. The range of souvenir shops is quite broad: it carved wooden casket, diverse pottery, jewelry, amulets for houses, utensils and more. For men, as a gift, you can buy a Cossack smoking pipe-cradle, a mug of beer and, of course, red men's trousers and Cossack hat. Women are like beautiful Ukrainian "embroidery" (embroidered shirts) hand-made, which can be supplemented with multi-row beads and national Ukrainian skirts. Ladies also enjoy embroidered towel, table cloth, napkins, pot holders. Very popular and a variety of plates, boxes, boards and other kitchen items, decorated with colorful paintings Petrikov. And, of course, various souvenirs with Ukrainian symbols - T-shirts, caps, scarves, bracelets, magnets, etc.
Edible souvenirs. Magnificent "Kiev cake" is a symbol, not only in Kiev, but the whole Ukraine. Great taste and quality of chocolate and candy confectionary factory "Roshen" recognized throughout the world, so do not forget to visit the company store on Khreshchatyk to buy these sweets. What to buy in the gift of intoxicating beverages in Kiev? Of course, the famous Ukrainian vodka (vodka) and a bottle of beer.
Kiev - a beautiful and welcoming European city in which every tourist will find shops and entertainment to your liking.
Number of Photos in Kiev