Where to eat in Kiev?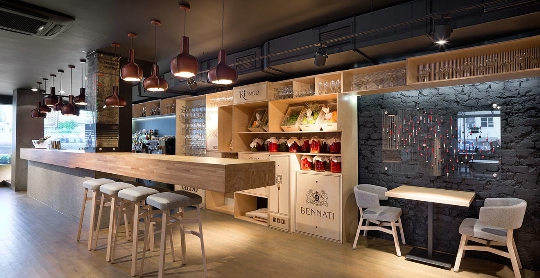 While on vacation in the capital of Ukraine, sure you are interested in where to eat in Kiev. In this city you will find numerous cafes, restaurants, snack bars, cafeterias and bistros.
Where to eat in Kiev inexpensively?
Inexpensive meal can be networked institutions"Puzata hut": here besides fast food, you will be offered to eat home-made food - soups, salads, porridges. In addition, it should pay attention to the network fast and healthy food "Evrohata" - then do not use flavor enhancers and semi-finished products. A visit to the cafe "Vinaigrette", you will be able hearty lunch within 8-9 $ - guests here are served salads, hot dishes, snacks and desserts.
Finding budget food places canvisit the Bistro "Chinese Express" - Chinese dumplings here are worth $ 2.5 / serving (4 pieces), and Peking duck - 1.8 $ / 100g. In the city center is cheap you can eat in the "Sandwich Snack" sandwich bar - here you can order as ready (landlord, Chicken de luxe, Tbilisi, Forester) and a sandwich, "assembled" from various toppings of your choice (to do this, order from the seller all sorts of ingredients that you will see in the window).
Where to eat in Kiev tasty?
"Veranda on the Dnieper": This restaurant specializes in Eastern, Russian, Ukrainian, European cuisine. Here there is a grill menu and map a variety of drinks.
Claude Monet: in this restaurant's menu are dishes of European, French and Italian cuisines. It is worth to try the risotto, lamb, pork crepe. Here you can fully enjoy breakfast and lunch, and enjoy a luxurious dinner. It should be noted that for couples restaurant staff offers to stay in the "Romantic" zone.
"Tracker": this restaurant specializes in Greek cuisine and European dishes. Here there is a vegetarian, baby, dessert-menu, cocktail menu, live and background music. There definitely should try schuchyu eggs and calf tenderloin on stone with home-style potatoes. On Sundays in this institution are held master classes for children.
"Partying": This restaurant serves authentic homemade Ukrainian food - nourishing soup, fragrant dumplings with cabbage and a couple of others. In an institution with live music (at the request of the musicians will perform compositions of different styles).
Gastronomic tours in Kiev
As part of the gastronomic tour you will visitwine cellar, located in the historic center of the city, you will hear the story of the Ukrainian wine, taste the wines of the best Ukrainian producers (if desired you can combine wine tasting and tasting of Ukrainian cheese).
Nutrition in Kiev you choose with ease - the city has both expensive and restaurants with reasonable prices, and cheap cafes and eateries.
Photo