Lviv Streets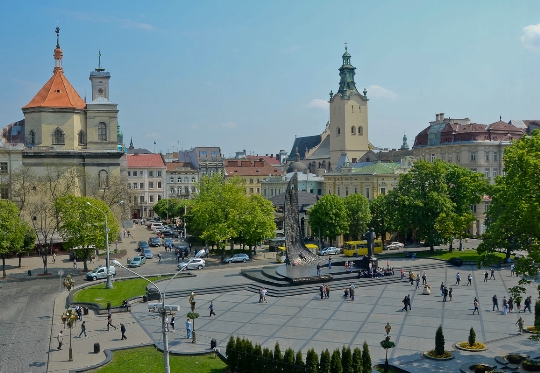 Lviv Streets are particularly romanticatmosphere and unusual architecture. Houses are located there, built at different times and survived. They have facades of different colors and different heights. Almost all the buildings are architectural monuments of certain years and eras.
If you walk along the streets of Lviv, one can understand,that the city has retained its ancient history, which is described in textbooks. Lions, along with Kiev and St. Petersburg form a trio of the most beautiful cities of the former USSR. It has preserved almost all the old buildings, and in the central part of the house practically no faceless. The main avenues lined with stone blocks, and the trams moved quietly through special rails.
Famous streets of Lviv
The most beautiful and prestigious streets isThe Freedom Avenue. Here, business and cultural life of the townspeople. Prospect name has changed several times. At various times he was referred to as the lower shafts, Hetman shafts Legions Street, Liberty Avenue, and others. The main attraction here is the object of Lviv Theatre of Opera and Ballet, the existing 1900
Active Avenue construction began in the late 19century - were built hotels, bank buildings, houses, shops. On the avenue of Liberty there are the most important events in the city. One of the main streets of the city is the prospect of Shevchenko. Buildings located here, evoke associations with medieval castles. This picturesque street existed in 1569 Previously, the prospectus referred to the Academic street. In 1955, he was designated Prospect Shevchenko. The northern boundary of the old city is a very long street Gorodotskaya. It stretches 7.5 kilometers and is considered the first road in Lviv, which was paved with stone blocks.
Areas of high-rise buildings
Also noteworthy are the historic centerStreet condominium. Sleeping areas of the city: Kozelniki; Sykhiv; Sknilov; Bodnarovka and others. Earlier, in place of those areas were villages, gradually grows to the city limits. Start inspection is recommended to Lychakivska streets, passing through which you get to the Church of Intercession. The Sykhiv is a beautiful church of the Nativity of the Virgin, the neighborhood with the park named after John Paul II. This church is the best example of Christian architecture of the city.
The downside of the city is a huge number of machineson the streets. In Lviv, there is no subway, and narrow streets make it difficult to the traffic. The air in the city is very polluted, and cars are constantly forming traffic jams.
Photos of Lviv streets