Tours to Lviv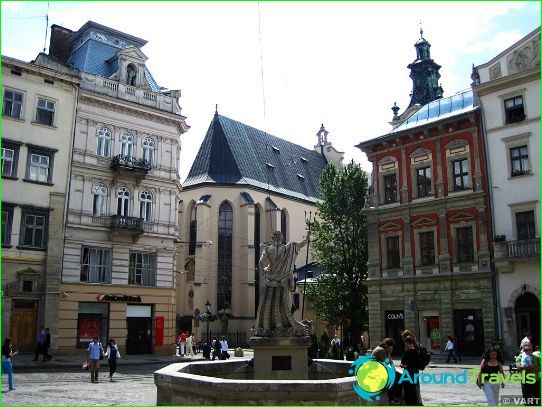 Lions - is the western Ukraine and one of thethe largest cities in the country. Its historic center is occupied a worthy place in the list of World Cultural Heritage by UNESCO, because the city is concentrated the largest number of architectural masterpieces in the Ukraine. Ratings tourist attraction did their job, and tours to the city and have become popular among Russian fans of interesting trips.
History and geography
The city was founded in the mid-thirteenth century GalicianPrince Daniel Romanovich and became the capital of the principality and, and the whole Ukrainian state. His name was in honor of Lviv princely son Leo, and today the people affectionately call him Little Paris, Ukrainian Piedmont, a city-museum, and even the pearl of the European crown.
Lions stretches just 70 kilometers from the Polish-Ukrainian border, and it is separated from Kiev to 600 kilometers, easily be overcome by car or by train.
Participants to the city in addition to architectural toursattractions are waiting for more than twenty parks and botanical gardens, many of which are monuments of nature and preserve the ecosystem as close as possible to natural conditions.
When to go?
Climate Lviv quite humid and warm. Winters are mild, the snow falls often, but not lying for a long time, and the air temperature in January fluctuates at a mark of -7 degrees. Most sunny days occur in August and September, when the rainfall is minimal. Summer temperatures are up about 24, in June and July storms and frequent short showers. The most favorable time for tours to the city comes in early autumn, when the air is heated to +20 rainfall are rare and most of the sunny weather of the day.
Briefly about the importance
Lviv has an international airport, located 6 km from the center. Direct flights from Moscow lasted just over two hours, and docking possible through Kiev and other cities in Europe.
To move around the city as part of the tour to Lvivmost conveniently by tram or bus. Lviv tram is itself a tourist attraction. It launched in 1880 and was the first horse. After 14 years, horses replaced the electricity, and the tram was reorganized earlier than in many capital cities of Europe.
One of the most important cultural centers of Ukraine, Lviv has to offer the curious visitor sixty museums and ten theaters, each of which represents a significant secular institution.
Photo