Water parks in Lviv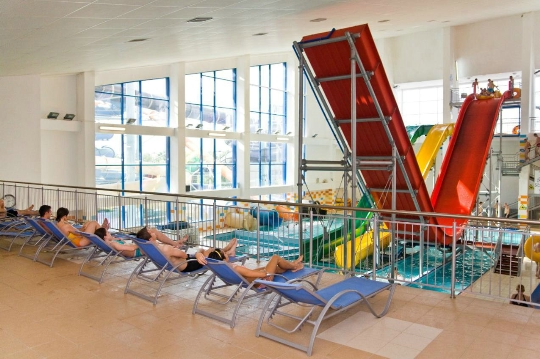 Going on vacation to the city, you want to combine sports, entertainment and recreation for? Welcome to the local water park!
Waterpark in Lviv
Water Park "Beach" has:
5 swimming pools, including a swimming pool with a counter;
9 extreme slides of varying heights and levels of complexity;
children's area with water attractions;
a relaxation area with saunas and baths (Russian, Roman, Finnish, infrared, aroma bath);
tanning studio and a summer terrace for sunbathing;
nail salon and massage services;
"Aquasport" magazine;
restaurant sector (there are bistros, restaurants with European cuisine and a fitness menu, fresh- and fitness bars);
fitness center (athletics, dance, and other facilities).
If desired, the water park, you can do water aerobics or water polo.
The cost of visiting the water park: adults - 210 UAH / day, 90 UAH / 1 hour children up to 150 cm - 170 UAH / day, 70 UAH / 1 hour. The cost of visiting the water park + relaxation area: adult - 280 UAH / day, 150 UAH / 1 hour.
Water Activities in Lviv
Staying in a hotel with a swimming pool ( "Taurus Hotel & SPA", "Kavalier Boutique Hotel", "Deluxe Hotel Kupava" and others), you can pamper yourself with a daily water treatments.
You can swim in the pool and visiting the poolSK "Dynamo" (has 5 swimming pools, including children's and outdoor), or the center of water recreation "Delfin" (here you can swim, join classes in aqua aerobics, take lessons in swimming, spend time in the Finnish sauna with Jacuzzi, Roman steam bath with a cold pool, relaxation lounge, tanning and beauty "Calypso", vitamin bar, one-time swimming pool - 25-40 UAH / adult, 18-20 UAH / children under 14 years old; massage - from 25 UAH / 1 session, the order of the Roman baths - 90 UAH / hour + 20 USD for every visitor, 2 hour stay in the Finnish sauna for the company up to 4 persons - 240 UAH).
If you are interested in beach and relatedfun, you should go to one of the lodges - "Bay of the Vikings" (entrance to the base - 10 UAH, bathing, use a shower, a mini-slide and stay in the children's village - 40 UAH, pastime on "grass" a tennis court, volleyball and basketball court - UAH 150, accommodation in tents - 100 UAH / day) or "Lviv Switzerland" (entrance, swimming in the lake - 30 UAH, fishing - 50 UAH, children's trampoline -10 UAH / 5 minutes, entry into the ropes course (level for children) - 50 UAH, tennis - 50 UAH / 30 minutes, the room rate - 350-450 USD / day): there you can not only relax by the pond or lake, but also swim, play active games, fishing (20 -50 UAH), ride a boat or catamaran (30 minutes - 50 UAH), use the barbecue, the wood, the necessary items for the barbecue (20-75 USD).
Photo