Beaches in Odessa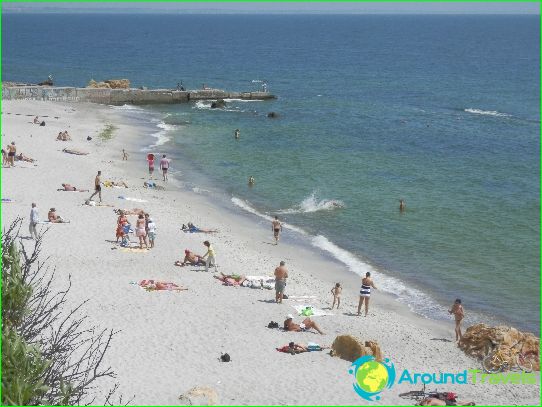 Odessa Beach is a tremendous diversity. The town itself is very interesting, even without taking into account the opportunity to relax by the sea. Odessa is famous for a large number of cultural monuments, the huge port and a very peculiar flavor of the local population, including their original patter. The beaches in the city very much, and among them, local residents and visitors, vacationers allocate some of the most popular:
beach "Seagull";
Beach "Joy";
beach "Langeron";
beach "Yellow Stone";
beach "Arcadia";
Beach "resort";
Beach "Gold Coast";
"Dolphin" beach.
Beach of "The Seagull"
The best sandy beaches of Odessa are very oftenThey include the beach at their charts. It is very convenient entry, so deal with car parking can easily even those who arrive in their own car. In the summer here goes under the bus number 259, which can inform travelers visiting locals. Deckchair here can be rented for 25 USD, and also order a private bungalow for the day for 350 USD. On the beach a lot of additional proposals, such as weaving and selling afrokosichek unusual snacks for beer. There is a private beach for the disabled.
Beach "Joy"
Amazingly, this beach is famous for one of thethe highest price of vacationers visiting local toilet - entrance costs 5 USD. However, this disadvantage pays extraordinary care and cleanliness of the beach. Here there are separate medical center, as well as a rescue post permanently manned true professionals. For 40 UAH. per day, parents can send their children to the large playground where their child will vigilantly watch. Interestingly, before the "Joy" can be reached in a very unusual way - by cable car, which will cost wishing to 15 UAH.
Beach "Langeron"
This beach is considered one of the mostcomfortable in Odessa. During the descent to the beach you can buy everything you need for your holiday: slippers, towels, mattresses and much more, as the good-natured sellers are located at every step. However, here a bottle of beer will cost tourists at 8 USD., Which is 2 USD. exceeds the price of the shopping. For children on the beach "Langeron" are special mini playground with a trampoline and other entertainment. Rent chairs resting will cost 20 USD.
All the beaches of Odessa a little different infeatures prices and provide equipment for the holidays, but they are all provided with modern equipment for a quality vacation visitors and local travelers. Rest in Odessa, not costing a pretty penny, and would be a nice change of terrain with the possibility to order a cultural excursion.
Photos of Odessa beaches