Viewpoints Odessa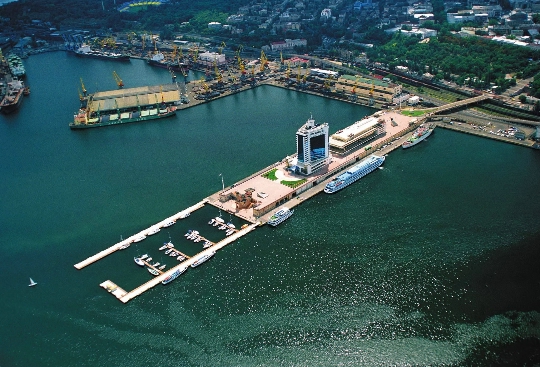 Travelers who committed the ascent to the observationsite of Odessa, will be able to admire the height of Deribasovskaya Street, Vorontsov Palace, City Garden, palaces Novikov and Count Tolstoy, Odessa Opera and other objects.
Lookout Marine Station
Observation platforms (each wing area haslength 50 m) with the best views of the "business card" of Odessa (Primorsky Boulevard, Vorontsov Lighthouse, the Opera House), can be found at 7 Seaport floor. In addition, here in full visible offshore facilities - will be able to observe the movement of ships in the harbor.
Excursion (Visitors will listen to information about the history of the port and city), suggesting a visit to the observation deck, is about 40 hryvnia.
Address: Street Seaside, 6.
The Potemkin Stairs
Overcoming more than 190 stair steps (height -27 m), on top of the tourists will be able to admire the harbor, seaport, Odessa bay. This object is interesting and popular competition, which aims - a race to climb to the top of the ladder (the record time in 2013 - 22.8 seconds).
There is no desire to go on foot? Take a ride on the funicular is located nearby, which consists of 2 wagons (each holds 10 people) - it "duplicates" the Potemkin Stairs route (route takes a little more than 1 minute; the price - 2 hryvnia).
Address: Primorsky Boulevard.
The observation deck on the beach Arcadia
Hence vacationers admiring vistas;on the beach during the day, they spend their time in sport zones, swimming, sunbathing on the loungers, indulge yourself water sports, and in the evening - visit the local bars and clubs (at nightfall the beach turns into a long dance floor).
Address: Street Genoa (can be reached by tram number 5, the taxi number 195 or 168, the trolley number 5 or 13).
Shevchenko Park
The role of the viewing platform here servesWatchtower: it is fenced railing, and the path to the site for viewing tiled. It should be noted that, if desired, guests can visit the exhibition of old brick. In addition, the park pleases visitors various attractions (rollercoaster "Cyclon", "Tornado", "the Digimon"), among which the most interesting is the 45-meter high Ferris wheel "Caledonia" (50 hryvnia, 7 minutes).
How to get there? It offers travelers: trolleybus number 2 and 3; Tram number 28; shuttle bus number 233 and 203.
Teschin bridge
The bridge - a popular place for walking, also here you can see part of the old harbor of Odessa and the sea.
Accommodation overhead view
If you have a desire while relaxing inOdessa daily to admire the Black Sea water area, it makes sense to you to stay in the room "Panorama De Luxe" on the top floor of the hotel (it is equipped with panoramic windows).
Address: Mukachevo lane 6/8.
Photo