Water parks in Odessa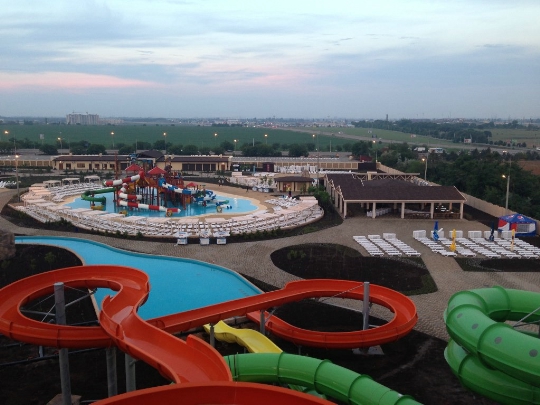 Crave fun and movement? Rest in Odessa, you will be able to try water attractions, having gone to a few water parks located close to the town.
Water parks in Odessa
Waterpark "Odessa" pleases visitors 5 pools(There is a wave pool) and an artificial river, artificial sandy beach with sun beds, areas for sunbathing and hot zones, 27, a variety of slides and attractions ( "Blue Rocket", "Red Rocket", "barrel", 200 m, "Kamikaze" in length, "Funnel"), a restaurant and pizzeria. Entrance fee: adults - 320 UAH / all day (half a day - 260 USD), children - 260 UAH / full day (half a day - 220 UAH).
Waterpark "Koblevo" has swimming pools(Children, hydromassage); "Cosmic funnel", "Flying boat", "Serpentine", "pigtail", "Black Hole", "Family Rafting" (total 9 adults rides), "Octopus", "Elephant", "water tower", "serpentine" (a total of 10 children's amusement); cafes, including children, and a restaurant. Information on prices: in the morning until 19:00 adult ticket sold for 300, while children (up to 1.4 m) - 240 UAH, from 14:00 adult ticket will cost 220, and children - 180 UAH, with 16: 00bilet for adults will cost 180, and for children - 140 UAH.
Waterpark "Orbit" is equipped with a children's playground,slides for the kids, water attractions "Rocket", "black pipe", "Pendulum", "Triple descent", "mountain slope". The cost of your stay: a ticket for the whole day for adults will cost 220, and children - 180 UAH.
Water Activities in Odessa
To each day to be able to swim in the pool, travelers are advised to stay at a hotel with a swimming pool - in the "Panorama De Luxe", "Maristella Marine Residence" and others.
If desired, you can visit the swimming pools "Hydromet" (there is a pool of 5 tracks, 1 visit - 70 UAH, 1 session in aqua aerobics - UAH 80) or "Aqua" (1 visit - 65 UAH).
Guests at the resort can visit the Odessa dolphinarium- It is recommended to visit the "night show" (evening performance for the price paid for 150 UAH, and the day - 100 UAH), in the program which includes the performance of dolphins, a laser show and fireworks.
Odessa happy vacationers and its beaches -"Arcadia" (day features - pool, deck chairs, amusement and sports areas, and in the evening there will also appeal to party-goers - for them at this time open the door to dance clubs and bars), "Joy" (the day in addition to swimming in the sea, you can swim in the 30-meter pool, and in the evening to move to the disco Ostrow), "Dolphin" (on this kilometer beach excellent infrastructure, handbills beach is an underground tunnel, decorated with mosaics - through it you can go to the elevator to go up to French Boulevard), "Langeron" (in addition to the "lazy" holiday, where you can rent a boat to carry a small romantic sea travel).
Photo