What to do in Odessa?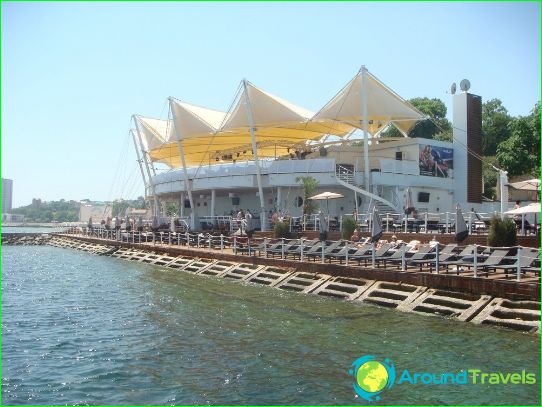 Odessa is a picturesque Ukrainian cityfamous Deribasovskaya street and Primorsky Boulevard, the remnants of the Turkish fortress (Shevchenko Park), the Church of Mary Magdalene, the Archaeological Museum, which stores Scythian, ancient Egyptian antiquities collection.
What to do in Odessa?
Take a walk along the famous street - Deribasovskaya;
A stay at the Odessa Museum of Eastern and Western art;
Admire the Vorontsov Palace;
Make a purchase at the famous Privoz;
Walk in the Odessa city park (here you will find attractions such as the monument "Twelfth chair", a sculpture of a lion, lioness and cubs, as well as the singing fountain);
Visit the Museum of Wax "Baba Ooty" (here you will see the wax figures of contemporary writers, actors and singers, characters from the movie "Pirates of the Caribbean", "Asterix and Obelix");
Go on a tour of the catacombs of Odessa.
Things to do in Odessa?
Arriving in Odessa, be sure toget acquainted with the architectural masterpiece - the Opera and Ballet Theatre, Transfiguration Cathedral, the Archaeological and Naval Museum, to see the monument to the Duke de Richelieu, walk on Teschin Bridge, St. Catherine's Square, see the Potemkin Stairs.
The whole family should go to the Museum of anchors (Naval Station) - here you will be able to see the Admiralty, cast anchor Matrosov anchor cat.
The children should go to the Odessa zoo tolook at the living Przewalski horses here, Amur leopards, bears, baboons, Indian elephants. Visiting aquaterrarium, you can see the snakes and reptiles (here the children will have the opportunity to participate in the thematic programs, such as "Water Day"). And in the dolphinarium "Nemo" with the whole family, you can look at the presentation, in which the main role played by fur seals and bottlenose dolphins (presentation held 3 times a day).
Take a ride on a roller coaster and other interesting attractions ( "Captain Hook", "air flight") can be in the Odessa Luna Park. And yet there is a race track, trampoline, children's mazes, boats, swans.
Children who love to collect the constructors isreduce to "Lego center", and students - in the "Lego Technic Club" (there is a robot gladiators and robots-football players, which can play). Visiting rope park "The Flying Dutchman", 4-year-old kids can walk on the "child" route, and adolescents and adults - on the "bold" and "high".
Have fun as possible and at water parks"Odessa" (there is extreme roller coaster "Boomerang" and "Rocket", a family slope "Multislide" children's "Pirate Town") and "Koblevo" (here you can take a dip in the spa pool and take a ride on the roller coaster "Refrigeration").
Odessa offers excellent opportunities for a beach holiday. So, you can relax in the exclusive beach club "Arcadia" with swimming pool, playground, water attractions, cafes and bars.
Only in Odessa, you will be able to go down into the catacombs, to sit on a bench near the monument Utyosov, exit to the open sea on a boat ...
Photos you can go in Odessa