Beaches Kherson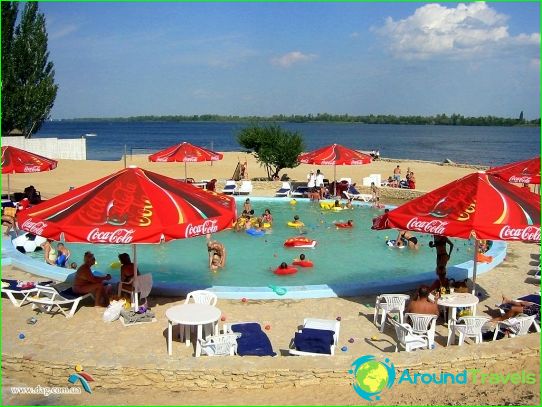 Kherson region is located in the steppe zone, andIt has access to two seas - the Black and Azov. Sand Island, and Spit peninsula located along the sea coast. The largest island Dzharyglach and Peninsula Yagorlytsky Kut.
The best sandy beaches in Kherson:
1 South;
2. Water park;
3. Skadovsk;
4. Youth;
5. Iron Port.
The beaches are perfectly developed resort center. Designated beach holidays are covered with golden sand and the sea is well warmed up, here you can relax with your family, the prices are quite reasonable. On the territory of Kherson has two biosphere reserves. A huge number of tourists come to Kherson on vacation, because here the unique climate and beautiful nature.
Water park is one of the city's beachesKherson, it is located on Quarantine Island. This island was created artificially (alluvium). It can even be reached by public transport. Near the beach is the city zoo Kherson, and on the banks of the Dnieper is complex Lileya. His visitors beaches Lilei give a beautiful, unforgettable holiday. On the bank of the river is also a night club, which offers visitors a wide choice of entertainment. Far enough away from the town center is another fairly well-known beach called Youth. entertainment complex "Panski Rozvagi" is located next to the Youth. Here you can order a picnic, a sauna, also available to the guests professional masseurs.
More than 300 resorts offering recreation andtreatment on the Black Sea. In Kherson spas can undergo treatment and rehabilitation of various diseases. If you decide to go for a vacation on the Black Sea, then you will enjoy the best sandy beaches of Kherson like Skadovsk, Iron Port. In the Sea of ​​Azov can relax on the Arabat Spit are also popular with tourists and beaches Genichesk Rifle. Beaches of Kherson - a velvety soft sand, warm sea and sun, relaxing here, you'll get only positive emotions.
In Kherson enoughattractions that vacationers can enjoy. The most famous architectural and historical monuments is the St. Petersburg gate (18 in.), Arsenal (1784), Old Nicholas Synagogue (founded in 1780), the synagogue Ben Gamedrash (1835). The city has an archaeological and paleontological museum.
Photos of Kherson beaches