Beaches in Poltava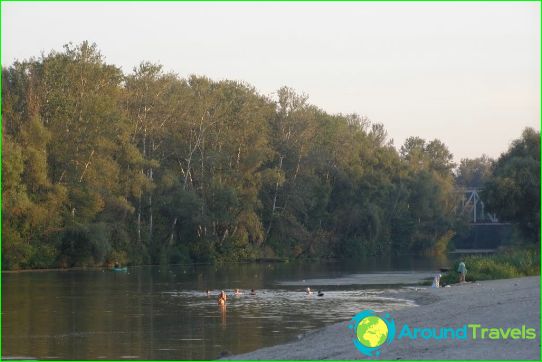 Holidays on the territory of Poltava have only goodthe fact that his organization did not have to spend too much money. Poltava Beaches open to everyone and ready for new experiences to tourists, and the opportunity to not spend all semi savings makes this holiday even more attractive.
Base "Pleso"
In Poltava, there are plenty of recreation onVorskla River. For example, the base is quite popular with the name of "Pleso", which is located on the left bank of the river. The length of the sandy local beach - only 90 meters, but it is enough for a comfortable stay. At the same time on the beach can be up to 200 tourists, but there is no absolute fullness almost never. Every two years, the sand here is me, so he can not very clogged. Before the start of the season made leveling a sandy surface and its plowing. Workers cleaned every day on the beach.
Safety of tourists here is in the firstplace. The local water will never get sewage and any household garbage is removed very quickly. The descent into the water here is very convenient: a gentle and smooth. Before the start of the season, divers always scrutinize the bottom, to ensure the safety of bathers. That is why on the day you do not stumble on the big stone or a fragment of the bottle, which makes the local beach is ideal for family holidays. Guards base are both professional rescuers.
For a small surcharge on travelersall day comfortable beds are provided. Showers and toilets with changing rooms here are absolutely free, to use them can be anyone. Late running a small bar where you can have a snack and a little cool.
Recreation center "Beach"
The best sandy beaches are scattered her Poltavaterritory, and one of them is located just at the recreation center "Azur". It was built in Dneprodzerzhinsk reservoir and its area of ​​almost 4 hectares. complex situation is quite comfortable, because it is almost entirely made of wood. However, the equipment does not forget about the wonders of civilization and makes it possible to stay active at any time.
The complex consists of the following components:
wooden houses;
hotel;
conference hall;
sauna;
Guarded parking;
bakery, rybokoptilny shop - all you need for a local restaurant.
Recreation center "Beach" will not only wellrelax and sunbathe, but to be alone with nature and admire the unspoiled natural landscape of the human hand. The local beach will give travelers a real pleasure in the lap of nature.
Photos of Poltava beaches