National Parks of Ukraine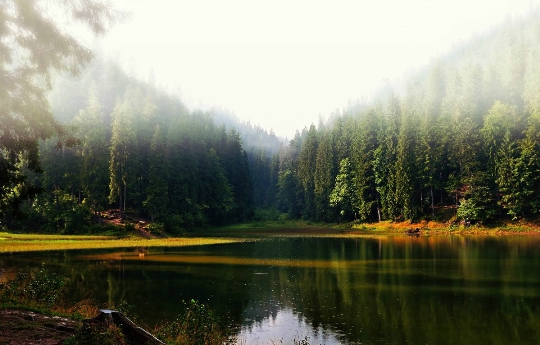 Almost forty national parks in Ukraine decoratemap of the republic and the pride of its inhabitants and the purpose of travel travelers love with leisure. All specially protected natural areas of the country are located fairly evenly across its territory, but their greatest density observed in western Ukraine.
Some statistics
The oldest park in the territory of Ukraine - Carpathian Ivanovo-Frankivsk region. It exists since 1980.
The largest area - 261 thousand sq. M. km - Park occupies Podil's'ki Tovtry in the Khmelnitsky region, and the smallest - Dermansky in Ostrog, Rovno.
In Kiev you can walk in the capital of Ukraine National Park. He called Goloseevsky and its territory preserved deciduous forests and terrace above the floodplain of the Dnieper.
From the pages of the Red Book
One of the most visited national parksUkraine stretches in Ivano-Frankivsk region. Its main value - dozens of species of plants and animals listed in the Red Book of the Republic. On the grounds of the park are more than 1,100 species of flora Carpathians, among which almost 80 - a particularly rare.
In winter and summer Carpathian area of ​​the parkIt attracts active travelers. Here lay the hiking trails and ski slopes and mountain Pip Ivan ruins Geophysical Observatory at the top becomes the object of attention of history buffs.
The closest city to the park - Yaremche, located on the road between the Ivano-Frankivsk and Uzhgorod. From here you can reach Lviv and by rail.
In Salt Lake
In the Odessa region on the Black Seathere is a territory with a special protection regime. Ukraine National Park subject workers caring Tuzly Lagoons National Nature Park - wetlands, where there are listed in the Red Book of the Republic rare birds: curlew, Black-Winged Pratincole and oystercatcher. The system of lakes and estuaries - unique in its kind and only in the territory of the park there are plants protected Green Book of Ukraine.
To get to the city of Odessa Tatarbunary where is located the park administration, simple and on buses and taxis, and rental car - they are separated only 140 km.
On Hutsulia
One of the most beautiful tourist destinations of thedifferent countries - National Park Huzulschyna Ukraine. Many resort areas, resorts and ski slopes are closely coexist with pristine corners of the reserved nature of a unique mountain range of eastern Europe.
Six dozen species of the local vegetationincluded in the Red Book of the republic, and prevailing in a conservation area of ​​trees - beech, hornbeam and oak - create the magnificent scenery of the virgin forests of the Carpathian.
Pearl reserve - Sheshory village, 90 km from Ivano-Frankivsk. The Hutsul village preserved folk traditions and crafts and the oldest temple - Gorishnya.
Photos of the national parks of Ukraine