North Ukraine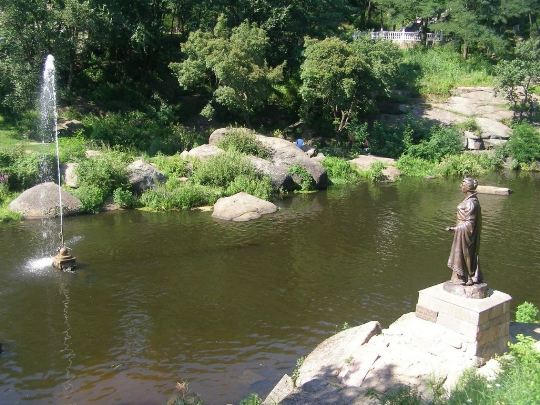 To the North are Ukraine, Zhytomyr,Sumy, Kiev and Chernigov region. In this region there is a high level of development of industry and culture. Its territory is the capital of the country - Kiev. North Ukraine includes in its membership of regional value cities. Zhitomir, Chernigov, Tserkva, Boryspil, Sumy, Pereyaslav-Khmelnitsky, Slavutych, Priluki, Nizhyn, etc. Sometimes, the northern region is referred as Volyn and Rivne regions. In some cases, the central part of Ukraine designated.
The main features of the relief
The northern part of Ukraine takes partEast European Plain, Polesie lowlands and Dnieper Upland. Almost all the rivers in the area belong to the Dnieper Basin, which occupies the third place among the longest European rivers, second only to the Volga and the Danube. The region also occur other major rivers. Pripyat, Grouse, Desna, Oh, the Diet etc. Kiev reservoir is located in the north of Ukraine. The area has good reserves of natural resources.
Climatic conditions
Weather in the northern part of the country affectedair masses coming from the north Atlantic. To a lesser extent an effect of the Arctic Ocean. Climate is influenced by the river network. The territory of Ukraine is almost completely in the zone of moderate continental climate. There are clearly marked seasons, long and warm summers and moderately cold winters. In the northeast climate is considered continental. In summer, the maximum temperature is 35 degrees, it can be -35 degrees in the winter.
The population of the northern part of the country
National structure in the area unique. Among the population of a lot of the Belarusians, Poles and Jews. Cosmopolitan city is considered Kiev. To communicate the residents of Northern Ukraine use Ukrainian and Russian languages, as well as surzhik (mixture of Russian to Ukrainian). In the north-west before it was noticeable impact of the Belarusian language.
sights
The greatest value among the cultural andhistorical monuments of Ukraine is Kiev-Pechersk Lavra, is located in the capital. It is considered a sacred world scale, on a par with such famous objects as the Monastery of St. Sergius of Radonezh, Mount Sinai, and others. The region is dominated by the Orthodox, which is reflected in the cultural heritage. Northern Ukraine is famous for its architectural and cultural-historical monuments. There are many national parks and nature reserves. For example, there are known reserves in Vyshgorod, white church, Glukhov and in other cities.
Photo