Prices in Poltava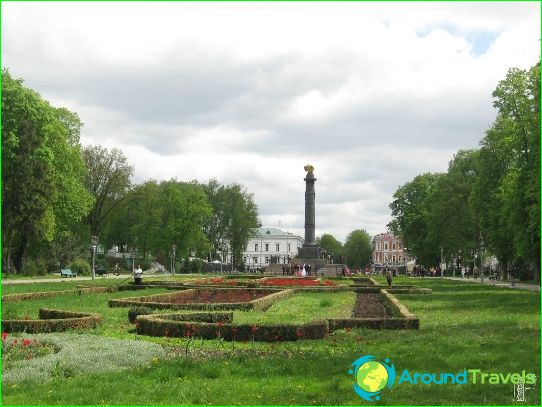 Poltava has a rich history and is famous fornumerous monuments. Today in this city a place of military glory and museums combined with shopping centers and new buildings. Poltava attracts tourists from around the world. It's clean, quiet and beautiful city. Consider the price in Poltava for basic services for tourists.
Tour
In Poltava, there are many excursions thatThey differ in focus: to explore the culture, history, for students, adults, and others are very popular variety of sightseeing tours in the city and surrounding areas.. City tour with a visit to Poltava Poltava battle field costs about 500 rubles and lasts 7 hours. Guided tour will cost 1100 rubles for 2 days. In Poltava better to come for 3-4 days. This is enough to briefly explore all the attractions of the city.
Accommodation of tourists
The key to good mood is a convenientaccommodation. The city has good hotels, but they are expensive. So many travelers rent apartments and rooms at private traders. In Poltava, you can rent a room for rent fast, thus saving money. The cost of apartments in the center for a day ranges from 700 rubles. Hotel room can be rented for 1,100 rubles a day. The most prestigious and expensive hotels are located in the central part of the city. Budget hotel on the outskirts, away from the main streets and attractions. In Poltava operate hotels with a different number of stars. Maximum convenience, the hotel offers a popular "Grand Avenue" has 4 stars. It occupies a new building and is characterized by luxury and originality. Accommodation is possible in the room Junior Suite, Business and Standard. The room is 1700- 4400 rubles per day. Tourists also leave good reviews about the hotel "Sinai" and "Gold", which are located next to / Railway station. Invites guests hotel complex "Tourist", located on the banks of the river Vorskla. The cost of standard rooms with all amenities 1100-1500 rubles.
Meals in Poltava
The city has restaurants, cafes, canteens. Delicious meals are served in the tavern «IV Bastion." It is characterized by an intimate atmosphere and an interesting menu. recommended auto-grill "Hunter", included in the "trump card" network for travel by car. It operates around the clock and offers dishes made on the grill:. Chicken, trout, shrimp, etc. Available on food prices observed in the pizzeria "Celentano" and establishment "Puzata Hata." Dine there can be for 300-600 rubles. Good and cheap coffee offers Kofein.
Photo