Prices in Ukraine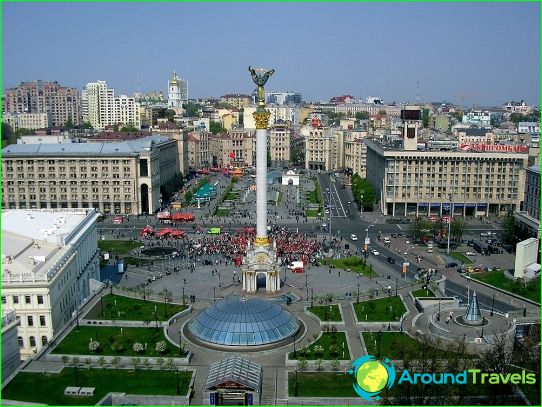 Prices in Ukraine is quite modest: coming to rest here, you will not have to pay for the many hours of flight and costly visa. Relax here can be expensive, but for the food in Ukraine you have to pay nearly as much as a holiday in Russia.
Shopping and souvenirs
Its shopping route in Kiev should start withPushkinskaya street - there is a luxury boutique Villa Gross sales in the season you can buy things brands Nina Ricci, Stella McCartney, Carolina Herer with a 50% discount.
From Ukraine should bring:
clothing brands (in Kiev opened many boutiques and shopping centers, as well as in any European capital);
amber products (boxes, statues, figurines, ornaments);
chocolate, candy Ukrainian producers Kyiv cake;
alcoholic souvenir - a vodka and mead (they should not buy "with hands" - only in specialty stores).
Men from a trip to Ukraine can bring their second half ring or a silver bracelet decorated with amber (the cost of this gift will be 50-200 euros).
Excursions
You can go on vacation in Ukraineday bus tour "of Tripoli and the Grand Canyon in a Beeches." (starting point - Kiev). During this tour you will visit the Kyiv Archaeological Museum, climb the mountain-Divichi, snack outdoors in a beautiful location, relax and enjoy the unique views of the canyon of Ukraine swim in the cool waters of the river Mountain Tikich. The approximate cost of the tour - 350 hryvnia (meals not included in the price).
And you can go on a tour if you want to"The Castle Radomysl", during which you will visit the Museum "The Soul of Ukraine" (here collected items spiritual history of Ukraine - 5000 icons) and Castle Radomysl. The approximate cost of the tour - 300 hryvnia.
Entertainment
A visit to the capital's theaters will cost you 40-300 hryvnia. But tickets to Kharkov and Dnepropetrovsk museums and theaters will cost you a little cheaper, and the saturation of the programs would be no worse than Kiev.
With children in Kiev should go to the Aqua Park: here you are waiting for water rides, slides, artificial waves and other entertainment. Entrance fee - from 120 hryvnia.
Be sure to go to Kiev PlanetariumAtmosfera - paying for a ticket 120-180 hryvnia, you will be able to see the magic spherical movies and play on the original interactive slot machines.
Transport
For travel on a bus in Ukraine, you will pay about 5 hryvnia, and in taxi - 6-7 hryvnia.
Your daily spending on holiday in Ukraine will amount to 700 hryvnia for 1 person (without taking into account the cost of living).
Where not to go for a vacation in Ukraine?
Photo