Resorts of Ukraine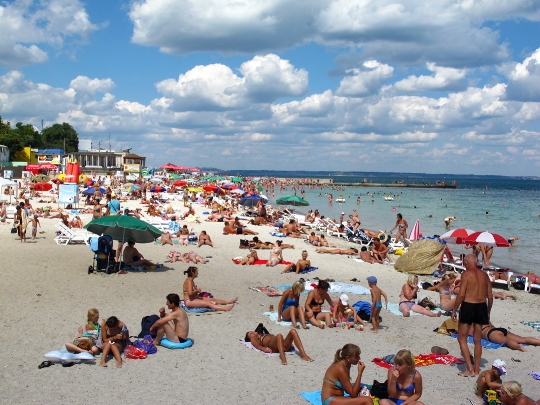 Choosing a place to relax, Russiantravelers are guided by different criteria, which include the price and the duration of the flight, the need to obtain visas and knowledge of foreign languages, especially the climate and local cuisine. Neighboring Ukraine fully comply with the set requirements for a comfortable and economical option holiday. There are always welcome, hotel fund offers rooms for every budget, and to tell no one needs all the delights of local cuisine. If we add to the list of arguments "for" a short flight, the mild climate and pleasant prices for services, it turns out that the resorts of Ukraine - a good place to relax at any time of the year.
Pearl of the Sea
This definition of Odessa, borrowed fromknown song, more than suitable wonderful city. At the local beaches are always a full house, because in Odessa nice to relax a person of any sex, age and social status. The cultural and architectural attractions, cheerful disposition of local residents, a special sense of humor and even a market - in a city called South Palmyra, will not be bored for a minute.
In Odessa, you can enjoy walks in theshady streets and tastings hundred varieties of ice cream and desserts. This resort of Ukraine known for its parks and gardens, and each monument has its own history and interesting legends. Share confidential information on a wide range of tourists unfamiliar sights of Odessa residents are ready to grant aid, we need only to ask the question in a tram or Privoz.
On the water in the Carpathians
Best spa resort in Ukrainespread in the foothills of the Carpathians, and well-deserved fame brought him hot springs. Already in the first third of the XIX century in Truskavets built baths and the local nobility tried to be treated with curative water. Lviv pharmacist Torosevich conducted chemical investigations Truskavets some water and recommend it not only for bathing, but also for internal use. Since at this spa resort in Ukraine, thousands of visitors have got rid of diseases of the gastrointestinal tract and abnormalities of the musculoskeletal system.
For active and athletic
Ski resorts in Ukraine are not too difficult routes, and therefore ideal for beginners and intermediate level skiers:
On the slopes of Slavske can ski until the middle of April. Such conditions provide a special arrangement runs between two mountain ranges.
The resort offers a host of Yaremcheentertainment - mountain and cross-country skiing, sleigh rides, dog sled riding, and local hotels in the fresh air after an active day, you can always warm up in the sauna and try a delicious Transcarpathian cuisine.
Where not to go for a vacation in Ukraine?
Photo