Restaurants in Ukraine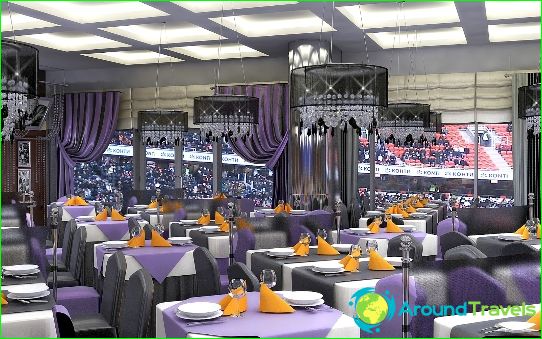 Once in Ukraine for business or for tourismmission, the traveler gets a unique opportunity to taste the real soup, dumplings and dumplings, not modified or under whose foreign taste. Here, everything as it should be: dumplings smell of fresh garlic, bacon gleams invitingly snowy flanks and Chicken Kiev look very festive with delicate hair curlers on the bone. Only restaurants in Ukraine, guests bought whole pages menu because the choice of flour is especially unbearable, and prices, by contrast, are pleasant and likeable.
Puzata Hata, or Goodbye diet
National restaurants in Ukraine as oneThey offer classic set of dishes, without which it is difficult to imagine the local cuisine. Networks like "Puzata hut" or Varenichnaya "Katyusha" are quite affordable at prices institutions, in which, however, is not ashamed to invite friends or lady. Such restaurants are available in all major cities of the country, their interiors look pretty and authentically. At lunchtime it is quite possible to keep within 5-7 euros per person, and the meal will be dense and delicious.
Leafing through the menu
The secret of the manufacture of one of the most popularUkrainian dishes - Chicken Kiev - is butter, which is embedded into the fragrant chicken. Ideally, the oil should be hammered into a layer of meat hammer that makes the dish wonderfully juicy. The history of its occurrence in restaurants in Ukraine, told in different ways, but why in the name of the dish is present Kiev, treats each source in its own way. Whatever it was, ordered chicken Kiev in the capital of the country - a sacred thing. Price of the issue is between 2 and 10 euros, depending on the status of the restaurant.
A surprising number of
Every restaurant in Ukraine is trying to attractvisitors some special chip, because the competition is too high and inexpensive and you can eat on every corner in the literal sense of the word. For example, Lviv restaurant "Kriїvka" recalls turnout underground worker, where the entrance should be called a password and immediately drink a glass of homemade mead. In Kiev, "Mlyn" chefs pamper guests not only a great meal but also a fire show and great views of the Dnipro.
Tipping in restaurants in Ukraine are a matter of personal guest, but like the service you can always notice a slight rounding of the invoice amount in a big way.
Photo