Excursions in Kharkov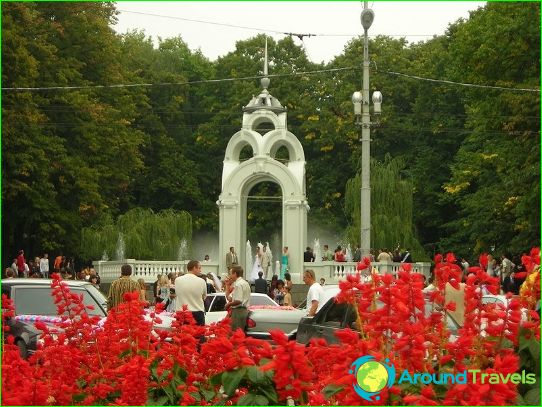 Kharkiv - a relatively young city, but ratherunique in its kind. There are many legends about the origin of Kharkov. City bestows all his generosity, for his coat of arms depicts a cornucopia. During the tour, Kharkov you can see how creative and industrial city, as a place with special, down the centuries, Ukrainian traditions. After Kharkov was once the first capital of Ukraine, it has an unrivaled architecture and surprises tourists.
Kharkiv - city with an interesting history
City tour completely captures and plunges into history. The most beautiful places are striking in their brightness and create a lot of pleasant memories.
Sightseeing tours in Kharkov include inspection of its main attractions:
South railway station square is one of the most beautiful squares of Ukraine. It is unusual because of the abundance of flower beds and a large fountain in the center.
Cathedral of the Annunciation - five-domed church with a bell tower, which is recognized as the first beauty among the city's cathedral.
Cathedral of the Assumption, which was built in 1855 to commemorate the victory over Napoleon, is famous for its bell tower. The cathedral is a unique organ, manufactured in Czechoslovakia.
Holy Virgin Monastery - the oldest cathedral in Kharkov, founded in 1726 within the walls of the Kharkiv fortress. Skovoroda taught here.
Monument of Independence of Ukraine. In the center stands a bronze column 16 meters high, at the foot of which the figure of a girl. At the top of the column sits the falcon, and its wings are folded in the form of a trident.
Monument to Taras Shevchenko was erected in 1935 and recognized as the most beautiful monument of the legendary poet in the world. In the center of the monument is a figure of the Kobzar, and around it there are 16 figures of the heroes of his works.
Monument soccer ball. This large bronze statue of happy sports fans.
Freedom Square - the main square in the center ofKharkov. In Europe, it is the sixth largest in the world - the eleventh, the size - about 12 hectares. All festive city events take place in this area.
Fountain "The glass jet" - in a national "Mirror Stream" - has long been a symbol of Kharkov.
In addition, the city can visit the many gardens in which there are amusement parks. Rest assured, you will be remembered by Harkov a long time!
Photo excursions in Kharkov