What to do in Ukraine?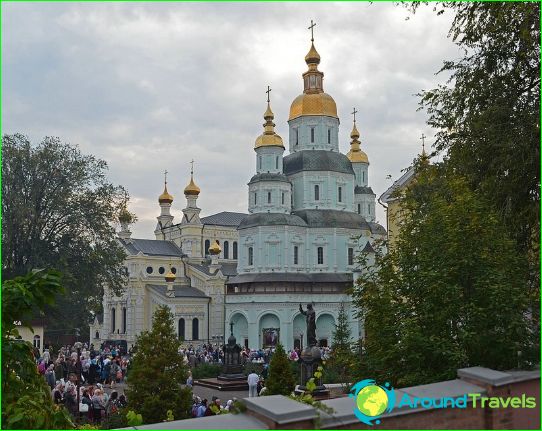 Kharkov famous monuments of world importance, the largest square in Europe (Liberty Square), one of the best amusement parks in the world (Gorky Park), Ukrainian Disneyland.
What to do in Ukraine?
A stroll along the promenade Lopan;
See Kharkov Cascade (fountain);
See the house wall on Moskovsky Prospect (the side of the house resembles a flat wall);
See the symbol of Kharkov - Mirror Stream ( "jet" - a gazebo + fountain) in the evening it iridescent;
Go to a football match at the stadium "Metalist".
Things to do in Odessa?
To explore the city, you can goon a walking tour and see the monument to his father Fyodor (the hero of the novel "12 Chairs"), the building of the former theater of Missouri, Annunciation Church, Assumption Cathedral, Holy Virgin Monastery, the working area, Kharkov Historical Museum, the Old Wharf.
In Kharkov there is a cable car: on it is possible to move to get to the place you are interested in (her route passes through Gorky Park to the neighborhood Pavlovo Field). This cable car can be used as the promenade and enjoy the spectacular views from the booths at Forest Park, Central Park and the entertainment center of Kharkov.
Couples with children can goentertainment centers "The Scarlet Flower", "the Holiday", "24", "Igroland", "Park Rost Club", "Family Club", a sports and recreation complexes, "Safari" and "Jungle", the water park "Wave".
Leisure
You can make paragliding: a journey at an altitude of 500-1500 meters will allow to explore all the nearby neighborhood and get a lot of vivid impressions! Such flights are organized in the village leash.
Fans of extreme relaxation can enjoyRope jumping, ie, make the jump to the ledge of the bridge (the height should be more than 25 m). These classes are organized in the area of ​​Malaya Danilovka - they charge you with adrenaline, new emotions and experiences.
In addition, you can make a parachute jump to "Korotych" aerodrome (Kharkiv flying club named Grizodubova).
Active tourists, for sure, will like the idea to go camping by canoe: routes are designed for 1-7 days, and different levels of difficulty.
Those who love to conquer the watery element, canwindsurfing, going on a surf-station located near Kharkov on the shore of the reservoir Pechenigy. Here you can rent boards and sails, as well as special training packages that help you to quickly learn how to get up on the board.
Rest in Kharkov will appeal and extreme, and active tourists, and families with children.
Photos you can go in Kharkov