Airport Fergana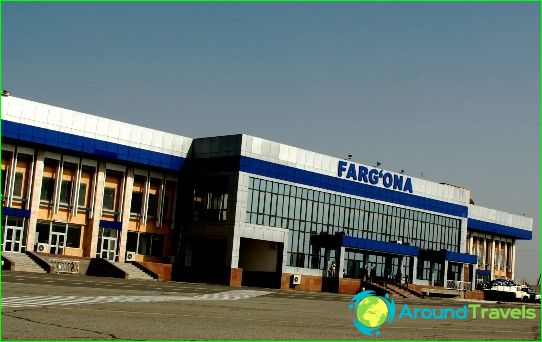 Fergana Airport is located in the same cityUzbekistan. The airport is located in the western part of the city. Air gate is at an altitude of just over 600 meters above sea level. It flies in the country, as well as in the cities of Russia.
The airport has only one runwaystrip, its length is slightly more than 2800 meters. This runway is capable of receiving such aircraft as the AN-12, AN-24, Yak-40, Airbus A320, Boeing 767, and others. As a result of the recent renovation of the ICAO has assigned the first category of the airport.
In Soviet times, the airport is actively used by "Aeroflot" flying squad. Today, he is part of the airline "Uzbekistan Airways"
services
Fergana Airport offers passengers allessential services that you might need on the road. Hungry travelers can visit cafes and restaurants, working at the terminal. Here you can enjoy the always fresh local specialties and international cuisine. A variety of shops allowing guests to the airport to buy the necessary goods - from souvenirs and ending with drinks and food.
Besides working at the airport ATMs, luggage storage, mail, point of contact, banks, currency exchange, etc.
If necessary, passengers can always go to the clinic and to buy the necessary medicines in a pharmacy.
For passengers with children have a mother and child room and a games room for children.
For passengers traveling in business class, on the territory of the terminal it operates a separate room Superior.
Modern equipment, which in Fergana, equipped with the airport terminal building can significantly reduce the time of registration and customs control.
Transport
As noted above, in Fergana AirportLocated in the city, so to get to the city center is not difficult. In the city you can go on the shuttle bus, which takes passengers to the center in about 10 minutes.
Of course, you can take a taxi, which takes passengers around the city. Accordingly, the service will be more expensive.
Photos Fergana Airport