Airports Uzbekistan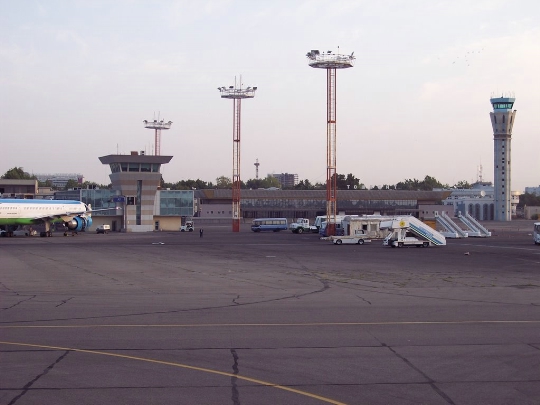 Edge fragrant pilaf, colorful skullcaps andthe vast cotton fields is often a destination for passengers from Russia. Someone flying visit home after hard work in the capital city of the brotherly state, others, on the contrary, descend the ladder for the first time at the airport in Uzbekistan to enjoy the amazing historical and cultural attractions.
Direct flights between the capitals of Russia andCentral Asian republic perform "Aeroflot" and "Uzbekistan Airways". In the sky will have to spend about 4 hours. The schedule of the national airline has many flights to other Russian cities -.. Ekaterinburg, Kazan, Krasnoyarsk, Omsk, Ufa, etc. The passengers from Moscow on the wings of the same "Uzbekistan Airways" can get in Bukhara, Samarkand and Fergana.
International airports in Uzbekistan
Status of international in the country assigned to several air harbor. Cities where the airports are the largest historical, administrative and cultural centers of the country:
Capital Airport Tashkent International Airport is located 12 km south of the city. Website - http://www.uzairways.com.
Air gates of ancient Bukhara are located on the western outskirts of the ancient city.
About 15 km shared Navoi airport and details of work which is easily found on the website - http://www.navoi-airport.com.
Samarkand Guests can reach from the passenger terminal to the center by bus or taxi - Airport is located in the north-eastern suburbs.
Airfield Urgench airport and the city center less than half shared taxi ride car. In addition to local airlines fly planes here S7 from Moscow and "Russia" - from the northern capital.
Air Gate Fergana located southwest of the city and transfer service to the center take the bus and taxi.
metropolitan area
Tashkent Airport - the busiest in the regioncentral Asia. Reconstruction of its terminals - but in the nearest future, but for now they are working at maximum capacity. All passengers of the Moscow airport of Uzbekistan recommended to arrive for registration in advance, as there is a queue can delay the process, and two standard hours is not enough for a quiet passage of all necessary formalities.
In Terminal 2 regular land side"Aeroflot", "Ural Airlines", UTair, Turkish Airlines, S7, Korean Air, Air Astana and aircraft of the national carrier. "Uzbekistan Airways" fly to Istanbul, London, New York, Rome, Seoul, Singapore, Urumqi and many other cities of Russia, Europe and Asia.
In eastern tale
Bukhara receives regular flights "Uzbekairlines "from Ferghana, Krasnodar, Moscow and St. Petersburg. The sights and willingly chosen hotel dovezut taxis or public buses.
In Samarkand can be reached by "Aeroflot" wings, VIM-Avia and "Ural Airlines".
Photo