Samarkand Region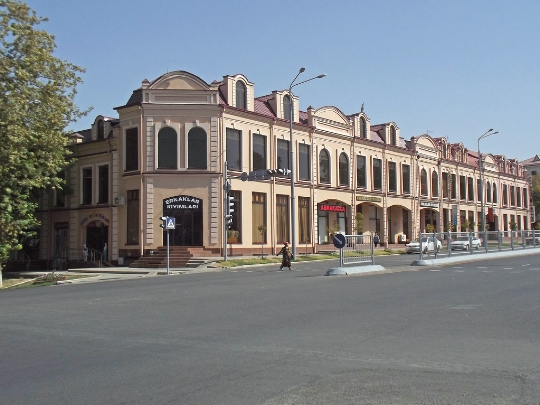 Samarkand Region conditionally divide the Uzbek city into several parts, the study of which help travelers to plan their leisure time.
Names and descriptions of Samarkand regions
Historical Center: the attention of tourists deserve the following objects - Gur-Emir (worth enjoy the blue dome, has white blotches, height greater than 12 m going inside, will be able to see the tombstone for Tamerlane, trimmed with dark green jade), Registan Square (on the perimeter of the square there are 3 madrasas, inside which there are mosques and halls for lectures), Bibi-Khanum (it is decorated with murals, tiles, carved marble), Siab Bazaar (you can buy handicrafts, spices, nuts, fruits and dried fruits), ensemble of mausoleums of Shahi Zinda ( consists of 11 mausoleums - dome building square shape, front porches are decorated with a carved mosaic - there lie the royal personages and personalities 14-15 centuries), the mausoleum of Aksaray (interior decoration will amaze - its dome and the walls are decorated with gilded ornament complicated technique "kundal "). At leisure to visit the Museum of History and Culture (in the collection is 200,000 valuable exhibits in the form of ancient coins, bronze helmet warrior 6th century BC and others), as well as the Samarkand Regional Museum (in the building decoration can be traced elements of European and Asian styles) : exhibits of the museum's collection are divided into 2 parts - the "story" (be able to get acquainted with the first manuscripts, examine a collection of weapons, household items, jewelry, as well as the exposition "House of the landlord of the 19th century") and "nature" (visitors waiting for inspection herbaria, landscape expositions , entomological and botanical collections, acquaintance with the stands for nature conservation).
New town: guests will walk on the street Independence (they will be able to admire the old houses built in the style of Russian provincial and capture them in the photo) and a visit to the park named after Alisher Navoi (vacation surrounded by greenery + viewing several monuments + visiting an art gallery).
As for the other attractionsSamarkand, the tourists are advised to take a tourist map with all the addresses, and then set out to explore Samarkand carpet factory "Hudzhum" (you can not only get liked the carpet, but also to see how they are woven by hand), the ruins of Ulugbek observatory (preserved part 30 sectarian-meter arc, in 2012, the observatory was restored, so guests should visit the museum, where exhibits and models of ancient Samarkand buildings) and Winery Khovrenko name (in the small museum will tell visitors the history of wine and invited to taste wines in a corresponding Samarkand hall).
Where to stay tourists
For stays of tourists can go hotels nearto University Boulevard (close to the Central Park) - "City Hotel" or "President". Interested budget accommodation can stay in B & B Antica (double room will cost $ 28-35).
Photos Samarkand regions