Water parks in Samarkand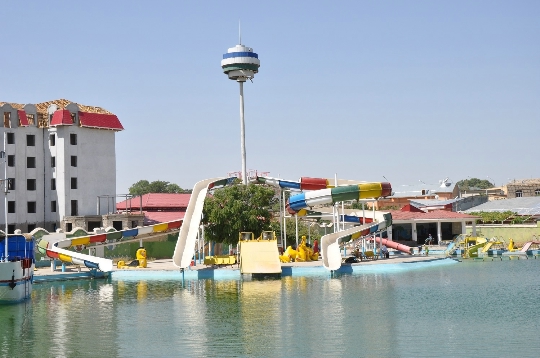 The guests of Samarkand has a great chance to have fun: the city provides them with the local water-entertainment complex.
Waterpark in Samarkand
Water park "Babylon" has:
10 swimming pools, water that is purified22 modern filters (there is a separate pool for women, depth 1.6 m, a private pool, designed in the Roman style, and 5 swimming pools for children of different age groups, depth 0.6-0.9 m);
columns with ancient statues;
fountains;
attractions for children, trampolines;
avenue planted with ornamental trees and different colors;
scene, where they played amateur and guest artists;
venue for discos;
outlets (they sold ice cream, soft drinks and Uzbek dishes).
It is worth noting that while in "Babylon" no waterrides, but they are planning to establish in the near future (all the projects are ready). Entrance fee: adults - 25,000 soum, children (under 12 years) - 10,000 soum, children under 2 years - free of charge.
Water Activities in Samarkand
If you are interested to live in the momentholiday in Samarkand at the hotel, which has a pool, you should look at the "Hotel Samarkand Safar", "Grand Samarkand Superior", "Orient Star Kuk-Serai" and other hotels. Besides wishing to swim can go to the swimming pool "Dolphin" (you can attend to pass here from time to time competitions in swimming).
Guests are able to visit the old citySamarkand bath "Hammomi Dovudi" - here you can relax in the bath, do massage, relax in the lounge, enjoying tea flavored with other attendees (for women sauna is open on Monday and Tuesday, and for men - Wednesday-Sunday).
And if you want you can go to the sauna "Dor"- Here you can relax in the sauna, swim in the small pool (if necessary, in the disposal of visitors will provide a special hat, towel, slippers and other accessories), to take a breath in the break room.
If you like a hobby, like fishing,Samarkand offers a trip to Aydarkul lake (fishing is best in April-May and August-September) - here you can not only catch carp, bream, catfish and pike-perch (if you do not take with fishing gear, if necessary them you can rent), but also to see living here pelicans, ducks, swans, cormorants and other birds, sunbathe and get a picnic by the lake, as well as a ride on a motor boat, a catamaran with a sail go jet ski. As for recreation, which you stop, there you will be able to play billiards and a sauna.
Photo