Tashkent Areas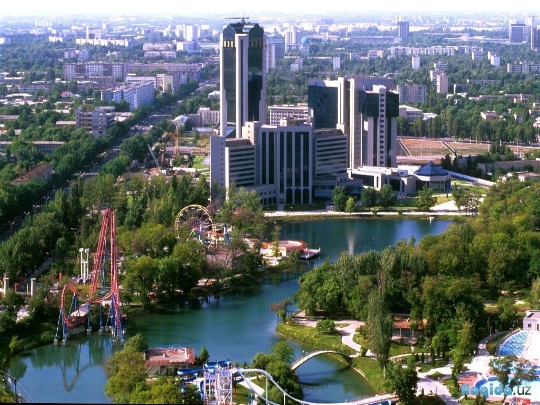 Tashkent district presented 11 largeadministrative units. Tashkent has Mirabad, Yashnabadskim, Bektemir, Mirzo-Ulugbek, Sabir Rakhimov, Yakkasaray, Chilanzar, Uchtepa, Sergely, Yunusabad, Shaikhantakhur areas.
Description of the main areas and attractions
Yunusobod region: attention of travelers deserve Astronomy Museum, Japanese Garden (here you can not only admire the exposition of stones of various sizes, but also to relax on the lake, watch the swans, feed ducks and visit the tea house), Tashkent TV Tower (you can stand on the viewing platform 100-meter height to which guests whisk high-speed elevator, and dine at the revolving restaurant "Koinot" admiring Tashkent panorama), State Museum of history of Uzbekistan, the memorial house-museum of Oybek, Zoo (then home to about 350 animals, in particular, zebras, giraffes and gorillas, in addition, its territory is an aquarium where visitors will see sharks, moray eels, different fishes and turtles), the palace of Prince Nicholas Romanov, a memorial complex "Shakhidlar hotirasi", a monument to Amir Temur, "Tashkent-Land" ( guests Tashkent Disneyland will be able to experience the "Wave", "coaster", "Hammer" and other attractions, as well as visit the horrors of a medieval castle, and attend the show-programs), a water park "Aqualand" (guests will be delighted the presence of extreme and children's slides, jacuzzi , conventional and wave pools).
Mirabad district: here you can visit the Ice Palace "Ice Avenue" (you can skate and visit cultural events of sporting character and guests who freeze, offers enjoy cake with hot tea or coffee), a water park "Limpopo" (guests are provided slides, pools and playgrounds, but if you want them to make a photo as a souvenir of your stay in the "Limpopo"), named after Furkat park (guests will be delighted attractions available here, 5D cinema, fountains, shooting gallery, a cafe).
Shaikhantakhur district: guests will be interested to go on a tour around the area - they examine the mausoleums Nuriddin Bobo and Suzukota, cathedral mosque "Hodge Alambardor" Kukeldash, visit the Palace of Arts, the holiday park.
Yakkasaroy region: guests may be interested in the object as a historic city walls. And they will be able to visit in the area Museum of Applied Arts, Academy of Arts and Puppet Theatre.
Where to stay tourists
The most attractive area for living inYunusobod Tashkent is considered - it is rich in attractions and entertainment, but there are hotels for tourists will cost a bit more expensive than in other areas.
In addition to the hotel offers travelers the private sector, but when choosing an apartment you need to take into account that are the most expensive places in the metro Hamza, Oybek, Chilanzar and center YUNUSOBOD.
Photos of Tashkent regions