Tashkent Metro: map, photos, description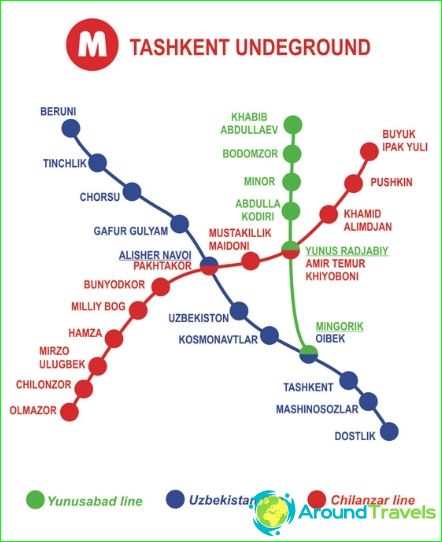 Metropolitan Uzbek capital city of Tashkent- Record in many respects. It is not only the only one in Central Asia, but also one of the most beautiful in the world. The total length of the three lines of Tashkent subway is more than 36 km and 29 stations work for entry and exit of passengers and transplantation. The day of passenger traffic on the lines is not less than 200 thousand people, which results in a year of 68 million. For a city with a population of over two million people, this form of public transport is one of the most important.
Its construction started in 1968. The first line was put into operation nine years later. It is named Chilinzarskoy, it is red in the diagram and connects Olmazar station and Buyuk Ipak Yuli.
Blue Uzbek line was opened in 1984. Train overcomes this route in 25 minutes, and the number of stations on the blue line by 1991 to eleven.
In 2001, Tashkent received the third lineunderground. It is marked on the schemes in green and called Yunusabad. It has a length of 6.4 km and passengers can take advantage of it at six stations.
Metro Station Uzbek - onlyunderground. They differ in a variety of artistic decoration. Each of them is unique and unique and decorated with panels and carvings, the granite and marble mosaics and columns. That is why Tashkent metro has become a city landmark, look at that descend into the earth millions of visitors each year.
All the train cars are equipped with modernair conditioning system, which in the conditions of the Asian region is very important. At the stations and subway trains Uzbek capital prohibited for safety reasons passengers photo and video shooting.
Metropolitan of Tashkent was built in compliance with theseismologists requirements and the composition of each station and have evacuation system in the event of possible earthquakes. Experts say that all the buildings of Tashkent subway can withstand tremors force to 9 on the Richter scale.
Hours of Tashkent subway
Stations Chilinzarskoy red and blueThe Uzbekistan line opened to passengers in the entrance 5.00 am and work until midnight. Hours Yunusabad green branches is somewhat shorter - from 6.00 to 22.00.
Tickets for the metro in Tashkent
special counters at the box office stations must be purchased to cover travel in the metro in Tashkent.
Photos of Tashkent subway