Rest in Tashkent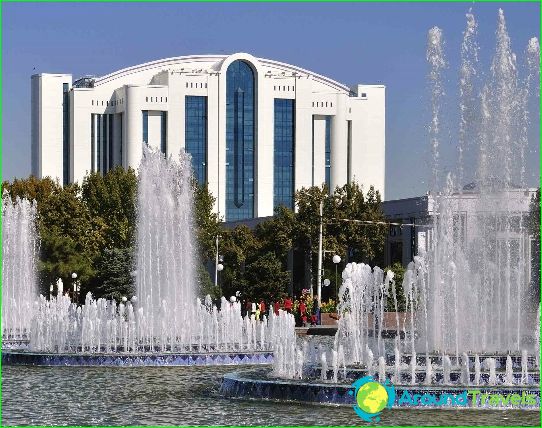 Rest in Tashkent - a great opportunitywalk through the bazaars and markets of the city, serves Uzbek cuisine, spend time in the parks, planted trees, bushes and flowers (often there are organized competitions, public events, flower festivals and pilaf).
The main types of recreation in Tashkent
Sightseeing: the excursions you will be offered a walk on Amir Timur Square, explore the Palace of Forums, Law School of the 19th century mausoleum Kaffal Shashi Dzhuma Mosque, madrasa Abul-Kasim, Tashkent TV tower, Kukeldash, the architectural ensemble of Hazrat Imam memorial Sheikhantaur, go in settlement Shashtepa.
Active: Active tourists can climb the mountains, ride horses or camels, to do trekking or hiking, play golf (at their service - Tashkent Golf Club on the lakes) or paintball.
Family: the whole family, you can visit the park Lokomotiv Amusement Park Wonderland (there are play areas and rides for children of all ages, for those who like a quiet holiday - park Garden Zone, but for fans of extreme sports - Extreme Zone), a water park "Aqua Land" (here you can play handball , volleyball, indoor soccer, swim in the pools, including a wave, frolic on different slides, for example, "Kamikaze", you can roll off the start), Tashkent Disneyland (here you can go on different rides - "Jungle", "Hammer" "Roller coaster", "Ferris Wheel").
Prices for tours to Tashkent
For a holiday in the capital of Uzbekistan are excellentthe summer months, as well as May and September. At this time, considered high season, prices for tours to Tashkent rise by about 35-45%. To save a little on vacation in this city can come in October-November and March-April. Another version of economical recreation - search the latest offerings in Tashkent, or go on vacation here in the winter.
On a note!
As in Tashkent in particular arechildren, those who go to entertainment centers with their children, will be able to count on a discount (in some places the little guests allowed for free).
Despite the safety and suitability for drinking the local tap water, tourists better to consume bottled water.
To pay in Tashkent for goods and services card - not a problem, but going to the local markets and small shops are located far from the center is to carry cash.
In memory of their holiday in Tashkent is to bringdolls in national dresses, Uzbek wine, tea, dried fruits, spices, traditional knives and daggers, camel wool product, boxes of handmade wood, copper utensils in the national style (kettles, cauldrons), carpets (for shopping, you can go to Yangiabad market ).
Photos holiday in Tashkent