Water parks in Tashkent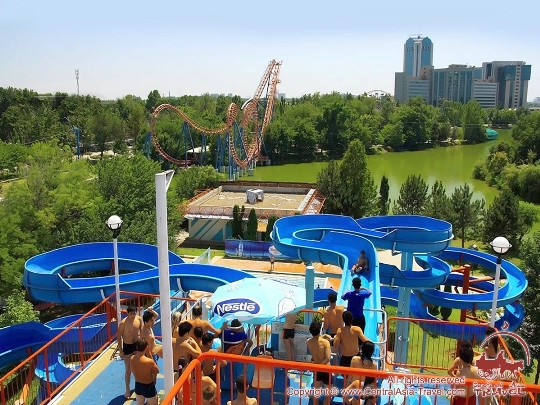 You do not know where to escape from the summer heat in Tashkent? Salvation is - visit the local water parks, where you can experience positive emotions from the water rides!
Water parks in Tashkent
"Water Park" (located near the metro station "Bodomzor"): Park is divided into adult and children's area - for guests of all ages are provided for swimming pools, including pools with Jacuzzi (the effect of water massage) and mimic the waves of the sea, as well as various slides ( "Tabagan", "Rainbow", "Kamikaze" "Quiet line"). Those who are hungry, it may be advisable to look into the cafe-restaurant "Aqua", "Favorite", "green island", and others. It is worth noting that in the evenings here you can come to a family reunion, a corporate party or a romantic rendezvous. Pricing information: 3-hour visit to the water park will cost 30,000 soums per adult ticket and 15,000 soums - for children (children up to 3 years - free of charge). Important: Monday - the day off.
Water park "Aqualand" (landmark - the resort"Chinabad" Yunusobod region): there are slides, including extreme, jacuzzi, swimming pools (one of them are artificial waves), a café with democratic prices. Entrance fee: adults - 28,000 UZS / 3 h, children up to 14 years - 14,000 UZS / 3:00.
Waterpark "Sun City" (landmark - stop"Feruz"): it has a water slide, a café, areas for sunbathing, swimming pools (outdoor, winter), children's play area. A 2 floor complex pleases guests karaoke lounge with comfortable sofas and a plasma TV. A whole day in the water park visitors an adult costs 70,000 soums, and children - in the sum of 40,000 (up to 3 years of age - free of charge).
Aqua Park "Limpopo" (location -Furkat area of ​​the park) he pleases its guests with children and adult swimming pools, cafes, snack booths, playground, water slides. If desired, you can lie down under thatched umbrellas on wooden loungers. Payment for the stay in the park hourly: hour visit for adults costs 8000 sum (2 hours - 15,000 soum), and children - in sum 5000 (2 hours - 7,000 soums).
Water Activities in Tashkent
Adults and children are encouraged to visit swimming pools"Aquamarine" (there is a separate pool for children; 1:00 stay costs 10,000 sums, and for children from 3 years will have to pay 5000 sum), "Dolphin" (equipped with a swimming pool, including children, where it is possible to resort to the services of the instructor if desired fitness-club "Admiral", massages, sauna, sun beds, a bar, 1.5-hour stay cost an adult in 9000 soum, and children - in the 6000 sum) or "Yoshlik" (adults and a 3-level children's pool, slides and ship, costing 16,000 UZS / 1 hour for adult and children - in 5000 UZS / 1 hour).
Photo