Where to go with children in Tashkent?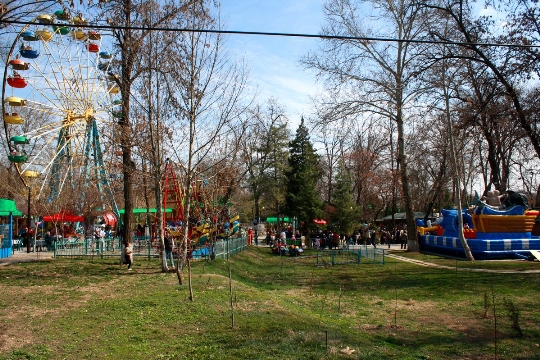 Tashkent - a modern metropolis and the capital of Uzbekistan. In this city you will find many interesting places that you can visit with your family.
Historical monuments
Attractions are concentrated in the historic center of Tashkent. There is a unique surviving cultural monuments of the country.
The old town area is located Hast Imam,which is better to visit in the evening. During this period, working illumination of buildings, so the area just transformed. Beautiful views can be admired while walking or sitting on the bench. During the day it is recommended to inspect the museums and mosques Hast-Imam. This place is Barak Khan Mosque and Sheikh Thiel. Facilities can be inspected, not only outside but also inside. The walls of the mosque are decorated with inlaid mosaics. At the Hast-Imam can look at the works of masters of wood, artists and chasers.
Another significant object of Tashkent -Sheikhantaur mausoleum complex. It is located near the modern part of the city, on the street AQ. This impressive monument of culture, which includes the tomb of Yunus Khan mausoleum of Sheikh al-Havendi Takhur and other objects.
Parks and places of entertainment
When planning where to go with children in Tashkent, notRemember to include in the schedule of activities parks and squares of the city. One of the best places for family recreation is considered the Independence Square or Park of Amir Timur. Every day, it attracts crowds of tourists. Walking through the park, you will see a monument dedicated to Amir Temur. It is also the National Museum of History Tamuridov. Near the park is the Opera and Ballet Theatre named after Alisher Navoi.
Walking through the capital of Uzbekistan, visit the TV tower. It is an observation deck, which is the height ranks tenth in the world. A visit to the Tower for an extra charge: the cost of an adult ticket is $ 7, children - about 3 dollars.
If you want the whole family to go torestaurant, the best solution would be the «Edelweiss». It's art club, which offers a special menu for children. Equipped play areas for children are also available in "Blinoff" cafe. Playground working in a supermarket, "Demir". There are slot machines, trampoline, toys and play area. Café "Afsona" operates a large playground for children. As it is located within a bouncy castle, swings, slides, tables for drawing. For older children, there are computers with games.
Walk can be next to the mausoleum complex Sheikhantaur. Alley is located in this place, especially popular on hot days. In the shade of the trees you can admire the beautiful scenery.
Photo