The currency in Uzbekistan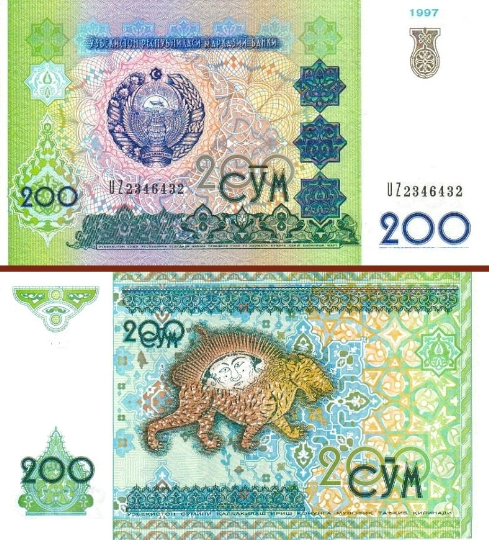 Currency Uzbekistan and called Sumomois 100 tiyin. Despite the fact that the Republic of produced banknotes from 1 to 25 and from 50 to 1,000 soums, today banknotes 100-1000 smaller sums are not used. The reason for this is the official exchange rate - 1000 sum set the equivalent of about 15 Russian rubles. Thus, the money Uzbekistan does not claim to be "heavy", but widely used in the Republic.
Background: scrip against RUR
History of Uzbek soums titled largeconfrontation of the currency Russian Ruble, and, in fact, for this purpose it was introduced, bypassing the Republic of Uzbekistan in 1993. The fact that the country's markets were filled with Russian currency and the excess engendered a certain crisis, both economic and political terms, some. Following the introduction of foreign tourists of the national currency should be taken into account, what currency to take to Uzbekistan, but at the same time economically unstable situation of the Republic was restored to the proper level.
After this historic moment of great scripWe did not undergo changes and their registration has remained the same: the dominant floral motifs, which reflect with precision the mentality and cultural heritage of the country. Thus, the watermark took the form of a repeating floral ornament in small bills, and more large bills from 100 to 1,000 soums received a decoration in the form of large granular cotton flower.
Money avers proudly bears the coat of arms of Uzbekistan, together with an indication of the nominal value of bills, and the reverse reflected Sher-Dor to the Registan Square.
Currency Exchange in Uzbekistan
Visiting tourists are familiar with the rules of the exchangeCurrency in Uzbekistan and know that such operations are carried out in special bank branches, in particular - the National Bank. In addition, the important fact is that many places do not mind receiving a foreign currency such as US dollars or euros, and sometimes even give her preference. This is especially true of many hotels and transport networks in the country.
The law prohibited to exchange money throughindividual and, accordingly, such transactions are punishable under the laws of the Republic of Uzbekistan. However, many people often ignore the law and turn to the black market, which establish a more favorable rate to the exchange of those same dollars and euros.
Photo