Features of Uzbekistan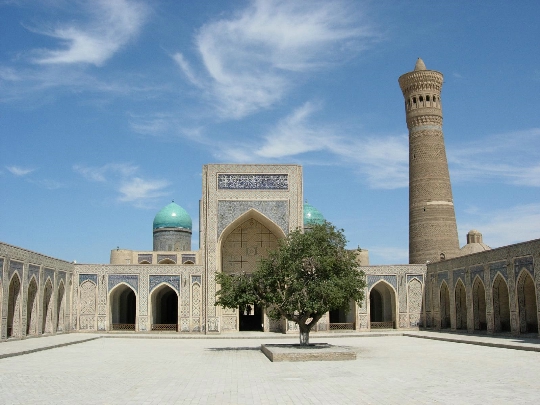 For residents of central Russia countries of the East,even when a part of the USSR, are still exotic and mysterious. For example, the national peculiarities of Uzbekistan surprise guest visiting their originality and fidelity to the ancient traditions. Naturally, every traveler, to get to this beautiful country, you need to know about some aspects of behavior that do not inadvertently offend the hosts.
Generous hosts
On the Uzbek hospitality every tourist knows,been there or just dreaming to visit the sunny country. For the family is considered to be a shame if someone from the household refuses to accept a guest or treat, shame placed on the whole race.
For its part, any guest should alsoadhere to specific rules of conduct. It is impolite to refuse (even for good reasons), can not be late. At the entrance to the house is accepted to greet each (greeting given much attention). At the same time the hand shake is allowed only to men, women can shake hands, only if it is its first stretch. Generally, in the Uzbek tradition to greet the representatives of the fair half accepted, putting his hand to his heart.
Uzbek guest house never comes toempty-handed, in the event that there is no particular reason, he brings sweets, fruit, souvenirs. According to ancient custom, Uzbek men and women do not sit together at the table, this can now be seen in remote villages. Any meal, regular or occasional, begins with prayer (it reads the master of the house) and bowls of tea. Generally, as in Uzbekistan, the tourist will have to drink a lot of cups of this delicious drink.
Uzbek holidays
Such events are very widely celebrated in a big way, taking part, and the hosts, and of course, guests. The most famous Uzbek holidays are:
Nowruz, the local New Year's Eve;
Khayit Ramadan, a holiday of spiritual and moral purification;
Kurban Khayit very important for all Uzbeks.
Uzbek New Year is celebrated on March 21, whenwaking up refreshed and nature, its origins lie in ancient times. After the main celebrations followed by another 13 days, when the Uzbeks go to each other's homes, visit friends and relatives. Beautiful tradition was holding khashars on the eve of the holiday, the Uzbek Subbotniks, and planting of fruit trees in the most important day.
Photo