The traditional cuisine of Uzbekistan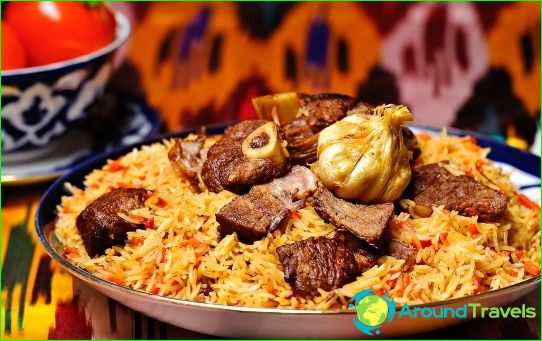 If you are going on holiday, it should be noted that the power in Uzbekistan is mainly represented by high-calorie and fatty meals.
Food in Uzbekistan
Uzbek cuisine will please fans of meat dishes made from lamb, beef, horse meat and meat of camels, birds.
Be sure to try the traditionalUzbek pilaf. Because it is prepared in different ways in different regions of the country, then you will have the opportunity to meet with Ferghana, Samarkand, Bukhara and other types of pilaf. In addition, depending on the time of year and destination pilaf, you can enjoy a festive, summer, winter, spring pilaf. Regardless of the fact that the risotto has many varieties, they share a core set of products and some spices - constitute the basis pilaf rice, meat, carrots, cumin and barberry.
Uzbekistan is to try and dishes from the dough and meat, such as manta rays and Naryn.
Since the country's wide range of vegetables and fruit, you can taste a variety of salads - from meat to vegetarian and dietetic.
Equally popular in Uzbekistan hot soups(Shurpa), cooked on the strong broth. As a rule, the Uzbek soups - sharp, thick, contain lots of vegetables and herbs, for example, pay attention to the soup moshubirinch (it is cooked with lamb, rice, tomatoes, beans and tomatoes), marshhurda (bean soup with sour milk, rice, potatoes and herbs), cholop (a kind of cold soup based on yogurt, cucumber, radish and greens).
Where to eat in Uzbekistan? At your service:
cafes and restaurants in which menu you can find dishes of Uzbek cuisine only;
cafes and restaurants, offering its guests a taste of international cuisine;
street cafes and tea-houses, where you can eat kebabs, pilaf, some kinds of soups (as a rule, they are located near train stations and markets).
Drinks in Uzbekistan
Uzbeks are popular drink tea, ayran, mineral water.
As for alcoholic beverages, in Uzbekistan it is widespread vodka, beer, wine and champagne.
Gastronomic Tour in Uzbekistan
During a gastronomic tourSamarkand, you can visit the Siab bazaar, where you will have the opportunity to try the famous Samarkand bread (of which there are 17 species). For lunch you are invited to a local teahouse where Sharvili offered to taste soup, and dinner will be served in the colorful restaurant "Karimbekov", offering you a feast on kebabs.
And in Bukhara you will be offered lunch in the nationalhouse "Dolon" - then you try to Bukhara and Soames shurvu matter. After lunch, you will be invited to the tea house "Spices of the Silk Road", where you can taste the spicy tea with traditional sweets Bukhara.
Kitchen Uzbekistan - is an infinite variety of these goodies: come here, you will be able to see this first hand!
Photo Uzbek national dishes