Uzbekistan Railways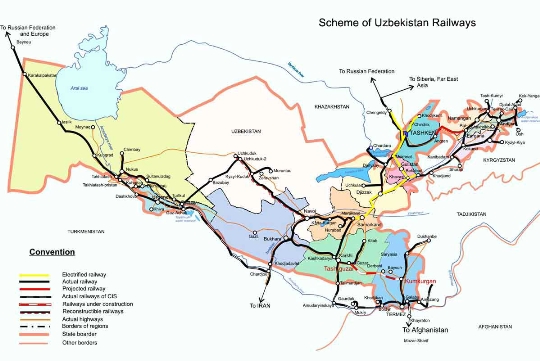 Uzbekistan Railways stretch for 6020km. transportation of passengers on the trains involved in state-owned JSC "Uzjeldorpass" functioning since 2002. It was formed on the basis of the Central Asian Railway, which covers the territory of Uzbekistan.
The state takes center and Central AsiaIt is one of the main transport nodes of Eurasia. At this point the cross air and ground communications of the region. Important trade routes passed through the territory of Uzbekistan, many years ago. Therefore, the development of the railway sphere is given a lot of attention. The emphasis is on the creation of new transport links between the regions and other countries. Currently, rail transport of the Republic of Uzbekistan fully meets the needs of the national economy. Railways countries have sufficient reserves for the transportation of passengers and cargo. Of particular importance are the trains for long-haul transport of large quantities of goods.
Railway passenger transport
Between the main cities of the country are not plyonly ordinary, but comfortable and high-speed train "Shark", "Afrasiab", "Nasaf". Travel to them for Uzbekistan are much more comfortable than by bus or by car. Regular flights to Bukhara, Samarkand, Tashkent commit train "Shark" and "Afrasiab". View routes, train timetables, and book tickets on the site www.bookinguz.com. Buy a ticket to the passenger can sell the box office in Uzbekistan. If the ticket is bought on the Internet, it is necessary to prove at the box office before the trip.
High-speed trains in Uzbekistan
Popular train "Afrasiab"the development of which took place in Spain. It is composed of nine passenger cars, two locomotives and a restaurant car. The train is equipped with the VIP seats, economy and first class. For the convenience of passengers there are comfortable chairs with footrest and table. Places are equipped with monitors and video-audio modules. On the train, you can not smoke. It is designed for 257 people. "Afrosiab" train is able to develop a speed of up to 250 km / h. From Samarkand to Tashkent (344 km) passengers get 2 hours. The aerodynamic design of the train is optimized due to side winds and oncoming air pressure.
Comfortable travel is also possible to"Shark" corporate express. It runs along the route Tashkent - Samarkand - Bukhara. The train accelerates to 160 km / h, as soon as possible to overcome the distance between the cities. "Shark" is made up of wagons of the first and second class as well as wagons ST. It is characterized by a pleasant climate, good sound insulation and ergonomic design.
Photo